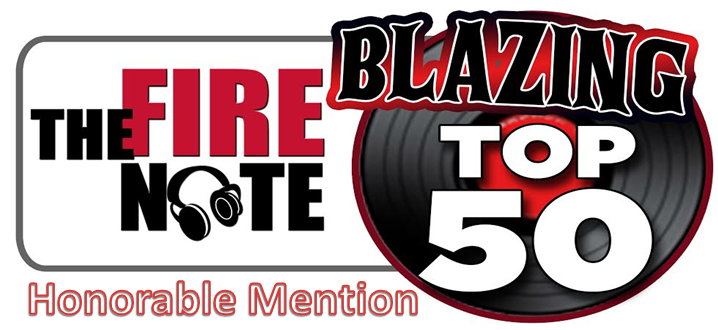 We will admit that we are only human. 2014 flew by and as always there were plenty of albums that never hit our review page that should have been included in our upcoming Blazing Top 50 but missed the mark for some reason. There are several reasons (excuses) for records not making the final cut such as reissued albums, live records and just several albums that never hit the review page due to understaffing! With that said, here are ten releases that came out in 2014 that are worthy of your ear!
#10

The Cleaners From Venus


Volume 3 (Box Set)
Captured Tracks [2014]

It is no secret that Captured Tracks remains one of The Fire Note's favorite labels. Sure they have grown up some over the last several years but their attention to detail on reissues should be praised. Their strategic reissue of legendary lo-fi 80s popsters the Cleaners From Venus has been worth every dime you own. If there is one band that is worth discovery, it is here with all three Cleaners From Venus Box Sets, but number three showed exactly why this band is so highly regarded.

The Cleaners From Venus: Volume 3 (Box Set) [Fire Note Review 7/2/14]
#9

Pallbearer


Foundations Of Burden
Profound Lore [2014]

I will admit that many of us at The Fire Note are not into the metal scene but Pallbearer is one of those bands that feels like a modern day Black Sabbath and has a crossover capability. With tracks that reach beyond the 10 minute mark, Pallbearer knows how to bring the heavy. This record would have most likely landed in the Blazing Top 50 but we never reviewed it!
#8

Modern Baseball


You're Gonna Miss It All
Run For Cover Records [2013]

This record reminds me of some of the great Get Up Kids albums. Its pop tongue in cheek delivery is infectious and honest. The record is a quick 12 songs in 20 minutes and should appeal to the youth with its laid back approach to dealing with common 20-something problems – ah to be young again. Modern Baseball will take you back there if those times have long past you – We should have reviewed this one!
#7

Motel Beds


These Are The Days Gone By
Misra Records [2014]

Hype means nothing if you cannot back it up. The good news is – the Motel Beds have no problem bringing the indie goods and you will hear it right from the opening title track on this compilation These Are The Days Gone By. This album is the perfect collection of older tracks to get you hooked on the Motel Beds while the record also provides several previously unreleased songs. Look for a new album in 2015 from this up and coming group!

Motel Beds: These Are The Days Gone By [Fire Note Review 2/10/14]
#6

Mozes And The Firstborn


Mozes And The Firstborn
Burger Records [2014]

Mozes and the Firstborn's debut brings an excellent mix of garage rock from the Netherlands to your speakers! It was originally released in 2013 but Burger Records brought it to the States in February. The group keeps one foot in the garage genre and feels out different areas with the other, which is not only the record's strength but why it ended up on this list!

Mozes And The Firstborn: Mozes And The Firstborn [Fire Note Review 2/21/14]
#5

Blank Pages


Blank Pages
Dirt Cult Records [2014]

Dirt Cult is another label that we adore here at The Fire Note and this year's release of Blank Pages 2013 self-titled record is a perfect example why. The songs here flow seamlessly into one another, always rocking, yet always melodic as hell. It has a high sing along and fist pump factor which seems harder and harder to find these days – look no further!

Blank Pages: Blank Pages [Fire Note Review 8/1/14]
#4

Gary Clark Jr.


Live
Warner Bros. Records [2014]

For me, a live record needs to be special in order to make the Blazing Top 50 but the talented Gary Clark Jr. was close and most certainly deserves an honorable mention spot. Usually the recording of a live album happens late in one's career, but Clark is pursuing very different goals. This could have been a huge bland mark in his catalog but he alters each track just enough to make them fresh and really spotlights his scorching guitar work and supreme backing band.

Gary Clark Jr.: Live [Fire Note Review 11/11/14]
#3

Swans


To Be Kind
Young God Records [2014]

A Swans record is typically an experience and To Be Kind was no different. The record is a full two hours long with one track clocking in at 34:04. It's that kind of record. Band leader Michael Gira again proves to be one of the most intriguing frontmen on the indie scene as this album takes you on a journey. Unfortunately, To Be Kind never made our review pages or else you would be seeing it in the Blazing Top 50.
#2

Tony Molina


Dissed And Dismissed
Melters/Slumberland Records [2013/2014]

I can't say enough positive things about Tony Molina. Dissed And Dismissed had a very limited release last year so we were glad to see Slumberland put it out to the masses in 2014. It is an infectious power pop record, while disguising all of its pieces with lo-fi production, short songs and plenty of guitars. You can't go wrong here and Molina's new full length is already on our most anticipated albums list of 2015.

Tony Molina: Dissed And Dismissed [Fire Note Review 3/24/14]
#1

Angel Olsen


Burn Your Fire For No Witness
Jagjaguwar Records [2014]

Interesting voice, thought provoking lyrics, and plenty of emotional tripwires made Angel Olsen's record one of the best singer/songwriter albums released this year. If you have not picked up this record yet I would suggest checking out the recently released deluxe edition that contains 5 more truly personal tracks. As to why we didn't review this one – no excuse – we should have!
Latest posts by Fire Note Staff
(see all)