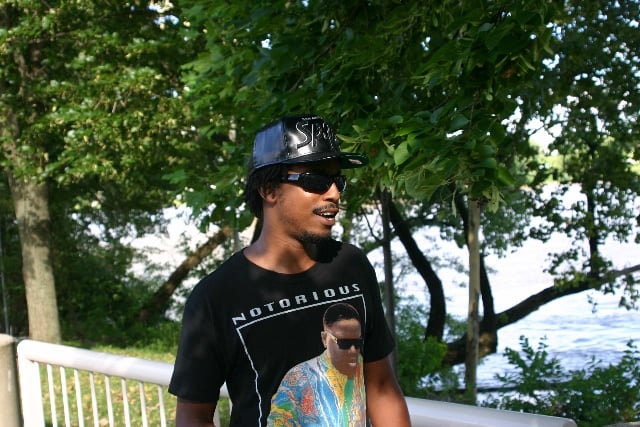 We caught up with Joe Lewis of Black Joe Lewis at the Bunbury Festival in Cincinnati and had the privilege of asking him some questions. The good news is that he answered them! Without any more delay the Joe Lewis interview awaits you below.
TFN: Talk about the new record – Electric Slave.
Joe Lewis: It's our first record in over 2 years. We had a big shakeup in the band and we have been playing these songs live for about the last 2 years – if you have been to a show recently you probably have heard some of them – we are really excited about it – I have been looking at this new record like it is really our first work.
TFN: The album Electric Slave comes out Aug 27 – are you getting excited?
Lewis: Yeah – it is time. We have just been hanging out doing one off short tours. It is time to get back to work. It has been nice having time off I guess but time to work again!


TFN: The album Electric Slave is just Black Joe Lewis with no Honeybears on the title this time?
Lewis: We just dropped the name. We actually have been trying to drop the name the Honeybears for a really long time. It is one of those things that sticks – I don't really care but we finally have a record that it is not on there. I have been actually calling the band Electric Slave but that is not really official. This is like a new beginning for us – we got a different drummer and I am the only guitar player – we used to have two.
TFN: Is Bill Stevenson still in the band?
Lewis: Yes he is the only original guy. The horn section has been with us for a pretty long time and is pretty much original I guess. I met Bill because he had actually came out and seen me play – I have been playing Austin for years and years before I started this band. I had a weekly gig on Sundays at this club called the Hole in the Wall – Bill was too young to get in back then and used to watch in the window. I met him from Zach who used to be in the band. Zach was the first guy I met and knew Bill from friends – we all hung out, watched documentaries and decided to start a band!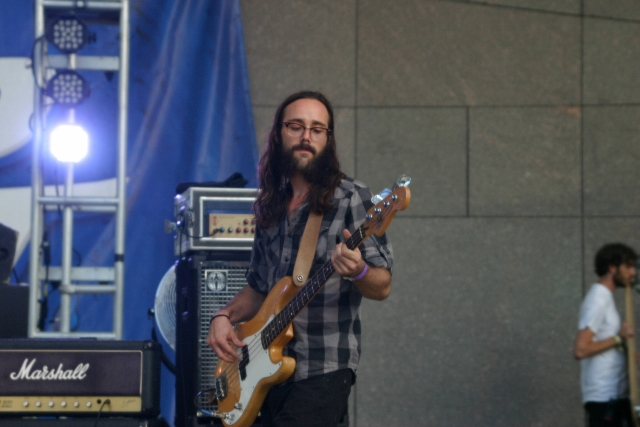 TFN: Electric Slave was produced by Stuart Sikes (White Stripes, Cat Power, Modest Mouse) and three songs by John Congleton (Explosions in the Sky, St. Vincent, Okkervil River) which is different than the previous two albums with Jim Eno – why the switch?
Lewis: It was to try something new. Stuart knows what we are going for more. I was really never super pumped on the way the other two records sounded. I didn't think they represented the live show. This time with Stuart he knew what we were trying to go for and it just worked really well. We did start off with John Congleton and he is a high demand guy so too busy for us (Ha Ha). We waited around for a while to see if we could get on with him again but he was friends with Stuart and so he linked us. We then went in and worked with Stuart and it clicked. We will probably do more with him.
TFN: Have you been working on Electric Slave for a while?
Lewis: The songs have been around for a while but we never got around to recording them because we had so much drama in the band but finally got all that shit over with and actually started recording in January and February so the record has been done for a while now.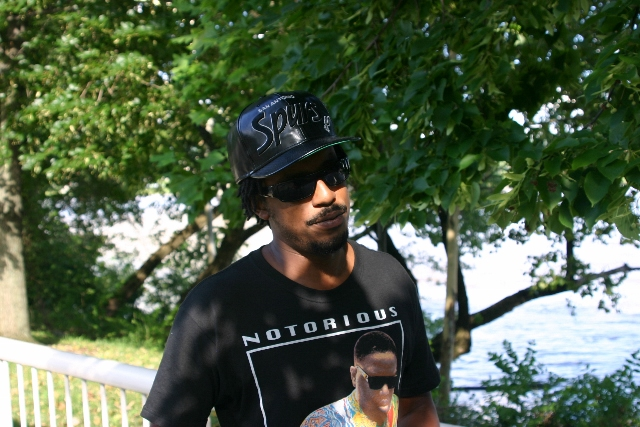 TFN: You switched labels from Lost Highway to Vagrant Records? Is there a difference or is a label a label?
Lewis: Labels kinda come and go and they drop you after a while. Lost Highway was pretty big and they have a lot of country stuff. Many of the people that I knew when we started and worked with were not there at the end – I loved the people we started with. Lost Highway dropped us or whatever you call it as they deal with bigger bands that sell like tons.
We didn't hook up with Vagrant Records until the record was done and our manager shopped it around. I don't really care who our label is as long as they like us. You don't want to feel like you get signed and the label is just happy if you sell records and they are not into what you are doing – Vagrant is not like that and it has been a good home so far!



TFN: "Dar Es Salaam" off the new record is real groover and is also Tanzania's largest and richest city. It means "The abode of peace" – is that what the song is about?
Lewis: When I originally wrote the song it was about space travelers coming to earth and everyone was going to die unless there was change – basically, if you want peace come with us to Dar Es. It was originally going to be called "other side of the sun" but I didn't like the way it sounded so I was looking at a bunch of maps in my room and was just searching. Dar Es Salamm's meaning of peace fit and also sounded cool!
TFN: Was there any urge to change your sound on Electric Slave?
Lewis: We had a couple other guys in the band that wanted to go in the soul direction but it was never really what I did and wasn't my sound – if you hear my early unreleased stuff you would have a better idea of what I am saying. After those other guys were gone from the band we were able to do what we wanted on the new album – there were no more struggles and Electric Slave feels all original!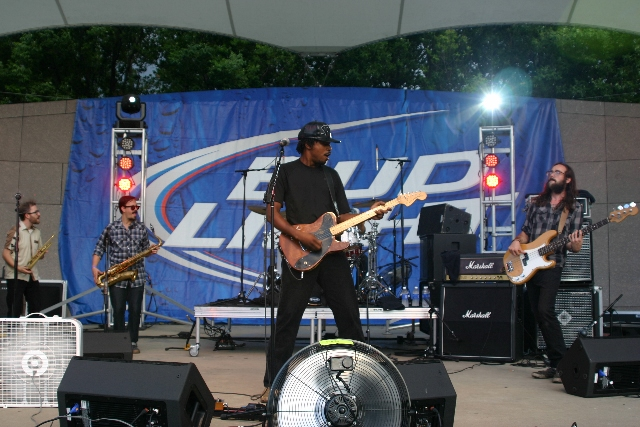 TFN: "My Blood Ain't Runnin Right" or "Come To My Party" / Do you ever feel yourself leaning more one direction – more straight up rocking versus horn filled soul?
Lewis: We wrote this stuff and it is us – we don't try to stick to any one thing and try to do what sounds good – before we tried to stick to a format but this new style is better for me!
TFN: How do you think you have progressed as a guitar player from the 2009 EP?
Lewis: Oh man – practice makes perfect – years of playing helps and now I am the only guitar player so it is a totally different sound now because it is like a power trio thing with horns. I definitely have gotten better but I have never considered myself to be a guitar great. During my solos sometimes I will be sitting there trying to find a note and I will keep doing it till I find it – sometimes I get ragged on by guitar nerds but I don't give a fuck (ha ha).

TFN: Do you find the festival setting a challenge? I say that because so many new fans to your music are out there – do you have to prove anything?
Lewis: I like the clubs more but we have had some great festival shows – sometimes you get crowds and they look at you sometimes which can get in your head but you gotta get up there and go at it either way but when the crowd is into it, it makes for a better show because I can just let loose.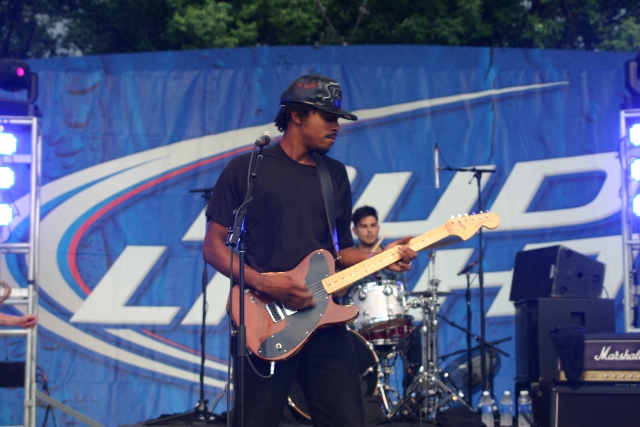 TFN: Do you have a favorite song to play live?
Lewis: Whatever is newest because it gets boring to play the same stuff every night – "Sugarfoot" still gets played off the first record – but not much else right now. We still play a lot of stuff off our last record Scandalous.
TFN: Someone doesn't know Black Joe Lewis – what song should I put on a playlist from the new record? Why?
Lewis: I really like "My Blood Ain't Running Right" and "Skulldiggin" but "Come To My Party" would be the song – it is good dance song. Also – get a picture of my boots!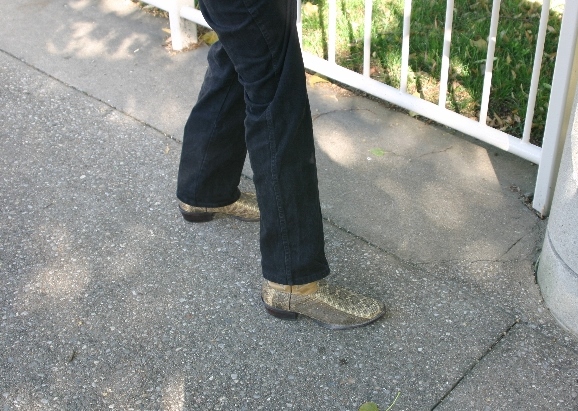 Thanks again to Joe Lewis and Vagrant Records. Electric Slave will be released on August 27 and it should definitely be a record that is on your radar!
Black Joe Lewis Website
Black Joe Lewis Facebook
-Interview by Christopher Anthony
Latest posts by Fire Note Staff
(see all)