Matthew Sweet


Girlfriend
Zoo Entertainment

Released: October 22, 1991
Producer: Fred Maher & Matthew Sweet
Length: 60:19
In October 1991, singer/songwriter Matthew Sweet released Girlfriend to a very unexpecting music scene. He had recently been dropped by A&M Records after two underperforming records, was newly divorced and made the move to a newly created label by Lou Maglia (former president of Island Records) called Zoo Entertainment. Seems like the perfect combination for failure – right? When you think that Mariah Carey's "Emotions" and Extreme's "Hole Hearted" were in the top 5 – one might wonder how in the world would Matthew Sweet break out?

Well first impressions with albums can make a huge difference and right as the opening track "Divine Intervention" faded in, I already knew that I was going to dig this record. This song gives you a solid introduction into this power pop masterpiece as Sweet's voice is instantly likeable, his guitar stands out immediately when it is played and the song's fake hard stop at the 3:24 mark is brilliant. Sweet seems to wrap up the song with a huge stress on the words "the sunshine," then the music momentarily stops before you hear Sweet in the backdrop politely stating "here it comes" as a bluesy guitar solo takes off.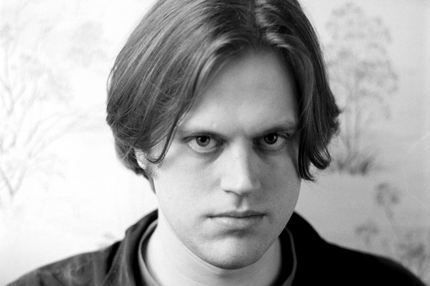 "Divine Intervention" starts the 1,2,3 punch as favorites "I've Been Waiting" and "Girlfriend" follow. It is hard to turn away from those three songs but what makes a "classic album" is a record's deep cuts that entice you to come back and stay for the full listen. Girlfriend is one of those records as the mid-track "Thought I Knew You" is one of those songs for me on this album as the up-tempo acoustic guitar gets you going and then Sweet pours out his emotions. These two components are then highlighted by the layered vocals which makes it a keeper. These soaring melodies happen throughout Girlfriend and make you want to sing along. Just like on "Evangeline" you can hear Sweet's guitar skills cranking away as he then isolates his vocals for the verse before he cries out the chorus "Evangeline, Evangeline – I think I love you!"

As a record that just pre-dated grunge and came off the tails of hair bands, Girlfriend hit at the right moment in time for Matthew Sweet. It helped revive power pop on the indie level and still sounds as fresh today as it did back in 1991. The album received a two disc Legacy Version in 2006 and it dearly needs to be repressed on vinyl. Girlfriend will be the album that Matthew Sweet will be remembered by as it is such a good listen from start to finish. If you have never heard this record and are even a slight fan of power pop you should seek this one out – trust me you will be hooked!
Deep Cuts: "Evangeline", "Thought I Knew You", "Holy War"
Artists Influenced by Sweet: Fountains Of Wayne / Telekinesis / Harper Simon
Interesting Fact: In 2010 there was a theatrical production titled Girlfriend at the Berkeley Repertory Theatre in Berkeley, CA. which was inspired by Sweet's album.
What is Sweet up to now: Matthew has been on the LP tour this year, co-headlining with Big Head Todd and the Monsters, Soul Asylum and The Wailers. He has been playing Girlfriend in its entirety. His last record Modern Art was released in 2011 and Sweet seems to be on a three year cycle so hopefully a new record will hit the streets next year.
Matthew Sweet Website
Matthew Sweet Facebook
-Feature by Christopher Anthony

Latest posts by Christopher Anthony
(see all)