At The Drive-In


Relationship Of Command
Fearless Records

Released: September 12, 2000
Producer: Ross Robinson
Length: 45:31
At The Drive-In didn't invent the post-hardcore scene. But did they have impeccable right place/right timing with one of the most important works of the last decade. Their third and final LP Relationship Of Command couldn't be any more of a poignant powerhouse then it already is. After purchasing back the rights from Fearless Records, the group has set out with their own label Twenty-first Chapter Records (named after the omitted chapter found in the US version of A Clockwork Orange book) to handle the reissue process. Rodriguez-López has been quoted as saying that the album's mix—which was done by engineer Andy Wallace—was the victim of record label pressure to be more radio-ready. "It's the one record," Rodriguez-Lopez says, "I still to this day cannot listen to." But never-fear: the 2013 reissues are the initial board mixes, the way the group wanted the album to sound.

Having followed Rodriguez-López for as long as I have then you know that he's a bit of a perfectionist. So quotes aside Relationship Of Command has been, is, and always will be an album to remember. Diving into the Bixler-Zavala, Rodriguez-López mythos is an adventure in its own right, but finding Relationship Of Command is a journey you won't forget. As soon as opener "Arcarsenal's" tribal drums kick in the album never lets up on potency or intensity.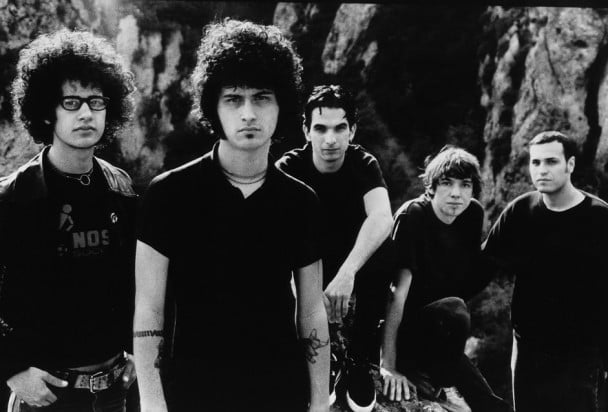 As much as I talk about Cedric Bixler-Zavala and Omar Rodriguez-López, they aren't the only ones worthy of praise here. Jim Ward, Paul Hinojos, and Tony Hajjar delivered just as much brilliance to the entire experience too. How many times after hearing "One Armed Scissor" did we wish we could replicate Ward and Rodriguez-López's intertwined post-hardcore onslaught of guitar after guitar? (I know I did.) Cedric's emotive lyrical cryptology delivered throughout the entire album leaves a sting that is familiar yet alien at the same time. It's these things paired with memorable songs such as "Sleepwalk Capsules," "Non-Zero Possibility," "Extracurricular," and "Catacombs" that make Relationship Of Command such a classic. This is a band that took artistic differences, excessive hype, and destructive drug habits, and–learning from their past albums—made something well-rounded that's part political, part biographical, and 100% original in the post-hardcore/punk scene.

Deep Cuts: "Arcarsenal," "Sleepwalk Capsules," "Catacombs"
Artists Influenced by At the Drive-In: Taking Back Sunday / Fall Of Troy / Circa Survive
Interesting Fact: Believe it or not, during the recording of Relationship of Command producer Ross Robinson had been talking with Iggy Pop, and during the sessions Iggy was down at the studio for a whole day. He sang on "Rolodex Propaganda" and did the ransom note on "Enfilade."
What is At the Drive-In up to now?: At the Drive-In ironed out their differences and toured in 2012, playing various dates and festivals. As for the future? Omar Rodriguez-López has ruled out the possibility of the band recording any new material.
At The Drive-In Website
At The Drive-In Facebook
Fearless Records
-Feature by Christopher Tahy

Latest posts by Christopher Tahy
(see all)