John Wesley Coleman


"Whisper Mountain" b/w "Everything's Gone Grey"
Spacecase Records [2013]


Here is a nice little 7-inch that we discovered during our Austin travels. It is the new release from self-proclaimed trash poet, novelist and songwriter John Wesley Coleman. He is a member of Austin's The Golden Boys but this solo outing finds him backed up by bassist Geena Spigareli and drummer Yamal Said.
What appeals to me here is Coleman's lo-fi approach to his music. Simple and clean. The A-side, "Whisper Mountain", is a flowing jingle of a track that was recorded back in 2011. Coleman's voice is very similar to Adam Green (The Moldy Peaches) and this track features the duet vocals of Gladys Dahmen. It leaves you with a good feeling as you flip over to the B-side "Everything's Gone Grey". This song was recorded in a kitchen earlier this year and finds Coleman's vocals very lo-fi and almost like he is in a tunnel. The track is an upbeat hand clapper on acoustic guitar and will make you wish there was another song.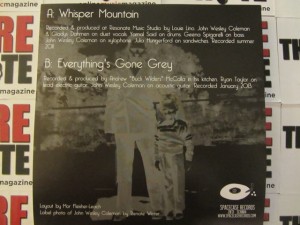 The jacket here is an art filled cardboard cover that folds over like a book to hold the record. The 45 rpm wax is on a standard black. You can still find one at Spacecase Records.
John Wesley Coleman Website
John Wesley Coleman Facebook
Spacecase Records
-Feature by Christopher Anthony

Latest posts by Christopher Anthony
(see all)