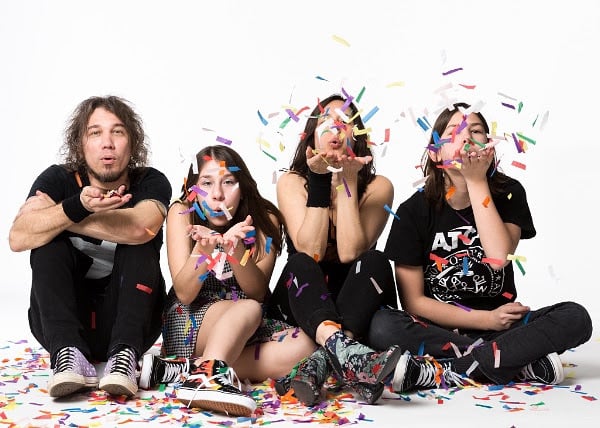 There is nothing better than some good old fashioned attitude rock for your Friday. Today's Friday Fire Track is just that as New Jersey's RocknRoll Hi-Fives bring a snarl with their single "Hold On." The band might surprise you as they are made up of sixteen-year-old singer Eilee Centeno, her thirteen-year old brother on drums, and their mom and dad on bass and guitar, respectively. The group will release their debut LP, Re-Introducing the RocknRoll Hi-Fives, on June 29th via Little Dickman Records.
"Hold On" is your first taste of this family rock project but don't get too caught up in that storyline because the music speaks for itself. Eilee's vocals are strong for 16 and they have a snap to them like a Joan Jett. The track features lyrics written collaboratively by Eilee and her dad which I just think shows the collaborative nature of the group. The Rock'n'Roll HiFives style reminds me of 90's punk group Red Aunts or more currently Southern California's The Side Eyes. Any way you slice it – "Hold On" will rock your Friday – Enjoy!

The Rock'n'Roll HiFives Website
The Rock'n'Roll HiFives Facebook
Little Dickman Records
Re-Introducing the RocknRoll Hi-Fives is available for pre-order HERE. They just wrapped up a tour of Japan and will be touring the US this summer in support of their new release — see below for upcoming dates.
The RocknRoll Hi-Fives on Tour:
6/24: New York, NY – Mercury Lounge (record release show)
7/5: Raleigh, NC – Schoolkids Records
7/6: Wilmington, NC – Gravity Records
7/7: Charlotte, NC – Oso Skatepark
7/8: Charlotte, NC – Lunchbox Records
7/11: Orlando, FL – Park Ave CDs
7/18: Austin, TX – Waterloo Records
7/19: Dallas, TX – Good Records
7/24: San Diego, CA – M-Theroy
7/29: Santa Cruz, CA – StreetLight
8/4: Boise, ID – Vista Bar
8/12: Indianapolis, IN – Luna Music
8/17: Jersey City, NJ – FM
8/18: Asbury Park, NJ – Asbury Park Yacht Club
Online Music Magazine: Independent Music Reviews, Vinyl Spotlights, Music News, Videos, 7-inch record features + more!
Latest posts by Fire Note Staff (see all)
Please follow and like us: