Triptides


Afterglow
Requiem Pour Un Twister [2017]


Fire Note Says: Triptides' 12-string jangle drifts pleasantly along, occasionally punching through the psychedelic haze.
Album Review: Jangle-pop is a hard sub-genre to make one's mark in. Originating with The Byrds' landmark rock 'n' roll reimagining of Bob Dylan's "Mr. Tambourine Man" in 1965, the genre has always placed an emphasis on the thin yet resonant sound created by 12-string electric guitars (particularly of the Rickenbacker variety). As a result, a lot of it tends to sound the same; great for die-hards, but for the average listener it can monotonous after a while.
On Afterglow, their fifth album, Triptides try to avoid that monotony by adding a generous dose of spacey ambiance to their tunes, a tactic that works much of the time. Tracks like "Rewind," for example, take the basic Byrds-influenced leads and juxtapose them against a backdrop that includes some Paul McCartney-esque bass runs, subtle harpsichord textures, and a beat that's more punchy than the Byrds ever put to tape. The quieter moments are often the highlights, like "Love Me Too" is a smooth, breezy folk-rocker, with summery reverb-drenched vocal harmonies and sustained organ notes, or "Phase," with its laid-back guitar strums and dreamy singing. "What For" follows up the latter with some trippy Theremin-like guitar swoops and wobbly vocal effects that conjure up a vaguely middle-eastern atmosphere and make it one of the album's more successful stylistic departures.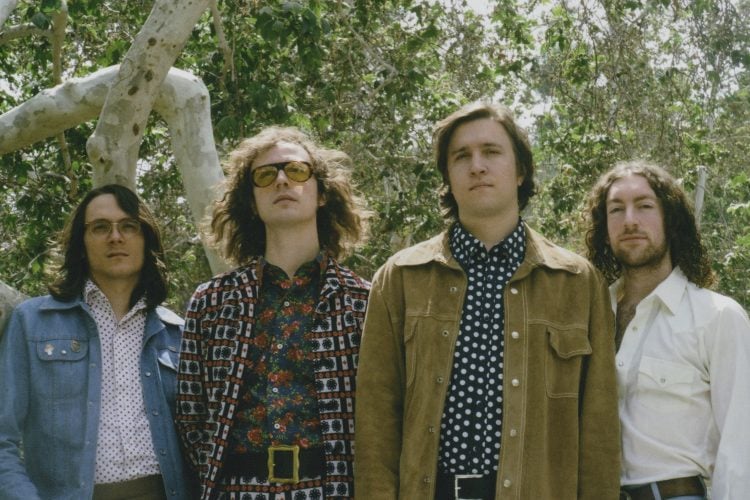 Most of the time, however, the album relies on those tried and true jangle-pop strategies: looping riffs, reverbed vocals, and layered harmonies. It works, but towards the end of the album's substantial 48-minute run time they do start to blur together into a sort of swirly psychedelic fog. It makes for good background music, but doesn't make you sit up and take notice either. Even the best moments in this vein, like the "Ticket To Ride"-like leads of "Throne of Stars" or opener "Summer Is Over," tend to fade into the background unless you're paying close attention.
That said, this is some great Byrds-inspired guitar pop, and fans of other neo-psychedelic explorers like Temples, Tame Impala, or The Flaming Lips should check Afterglow out. At worst it's a pleasant paisley backdrop, but Afterglow's best moments show the band breaking through the sonic curtain, offering an impressive modern take on a classic sound.
Key Tracks: "Rewind" / "What For" / "Throne Of Stars"
Artists With Similar Fire: The Byrds / Temples / Unknown Mortal Orchestra

Triptides Website
Triptides Facebook
Requiem Pour Un Twister
-Reviewed by Simon Workman

Simon Workman has loved rock n' roll ever since his dad made him Beatles and Beach Boys mix tapes as a kid. These days his musical interests have a wide range, though he's still got a strong connection to the music of the 60s and 70s. He lives in Dayton and is currently working on a PhD in English literature at the University of Cincinnati. You can follow him on Twitter and Instagram @simonworkman.

Latest posts by Simon Workman (see all)
Please follow and like us: