Deep State


Thought Garden
Friendship Fever [2017]


Fire Note Says: Deep State churn up a big, fast, punk rock sound on their second album, Thought Garden.
Album Review: The four-piece punk rock band Deep State, from Athens, GA, churn up a big, fast swirl of sound for their second album, Thought Garden. From the start listeners will be drawn to the propulsive beat and chiming, churning guitars and the hypnotic droning quality in vocalist Taylor Chmura's yelping vocals, but as the disc progresses there's more melodic clarity – sometimes in the bass lines, some times in the vocals – plus the occasional pop hook in the rhythms of the guitar, and harmonies in the backing voices.
The energy level is high and the songs ring out with contagious noise, recalling for me early experiences with punk bands like Minutemen and Hüsker Dü, especially the slash and burn guitars of "No Idea Pt. II," which follows the brief opening noisy static of the less-then-a-minute "Guardin'" which at the very least gets points for the pun.
While the title track, "Thought Garden" suggests the inner workings of a mind that's less than clear, many of the vocals are buried in the mix, not unlike another Athens' band who's lead singer tended to "murmur" so that on songs like "Mountain" tend to suggest a direction more in the obvious "oohs" and "aahs," and in a song like "Infinitesimals," the song's title is the one lyric that stands out.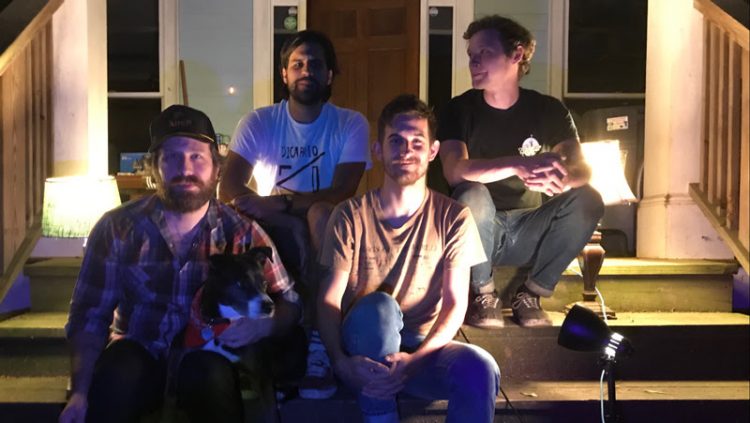 On the back half of the record, the band — made up of Chumra on vocals and guitars, drummer Michael Gonzalez, bassist Christian Deroeck, and guitarist Ryan Moore – slow things down a bit on tracks like "Nothing Speaking," which gives the vocals more space and the instruments reveal a more accessible musicality. At over 4 minutes, it's one of the longest songs here, and in the repetition of the song's title builds to a traditional pop song climax.
"Idiot Waster" feels a lot like an early R.E.M. rock song, while "Eight" returns to the album's churning, pop/punk with Chumra in full vocal rant by the songs end. The set closing "Um" starts out with atonal picking but then settles in to a slow bass line groove and a melodic vocal that builds to several intense crescendos as the guitars and vocals build to a strong rhythmic close. Deep State have laid down a promising grounding on Thought Garden, offering strong song-craft and unexpected versatility, and as their promo materials suggest, they are just getting started.
Key Tracks: "Heavy Lunch" / "Mountains" / "Idiot Waster"
Artists With Similar Fire: Minutemen / Hüsker Dü / (early) R.E.M.

Deep State Website
Deep State Facebook
Friendship Fever
– Reviewed by Brian Q. Newcomb
Brian Quincy Newcomb has found work as rock critic and music journalist since the early 80's, contributing over the years to Billboard Magazine, Paste, The Riverfront Times, and The St. Louis Post-Dispatch.
Latest posts by Brian Q. Newcomb (see all)
Please follow and like us: