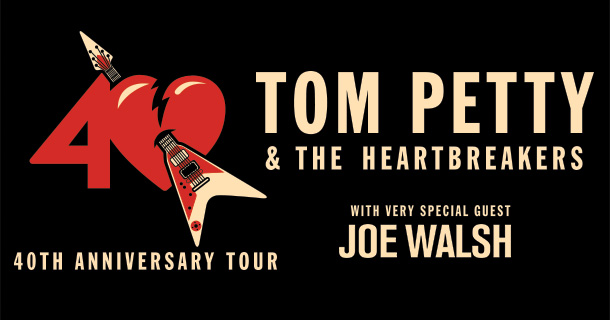 Tom Petty & The Heartbreakers w/ Joe Walsh: Scottrade Center, St. Louis, MO – May 12, 2017
When Tom Petty led the Heartbreakers to the stage for their 40th Anniversary Tour stop in St. Louis, the large screens at the rear of the stage projected a photo of one wall of the band's practice space, with two dozen guitars lined up and ready for use. It was also against the back drop that this might be the last large tour for this band, ever.
Relaxed and ready to play, Petty was accompanied by players that had been the core of his band for all 40 years of their recording and touring career. Mike Campbell, his lead guitarist and foil – the Keith to his Mick, the Little Steven to his Bruce, the Joe Perry to his Steven Tyler (I could do this for hours) – keyboardist Benmont Tench, and bassist Ron Blair who had been with him at the very beginning, although Blair departed after 6 years, and then returned twenty years later in 2002 replacing Howie Epstein who had replaced him.
Multi-instrumentalist Scott Thurston had worked with Jackson Browne and Iggy Pop before joining Petty & Co. in 1991. Drummer Steve Ferrone has been a Heartbreaker since 1994, but had been an original member of the Average White Band, and had recorded with Eric Clapton, Stevie Nicks, and Slash 0f Guns 'N' Roses, to name but a few. For this tour, Petty was accompanied on background vocals by The Webb Sisters, Charley and Hattie, the English singing duo that had toured with the late Leonard Cohen, performing on his concert album Live In Dublin.
Petty opened the show much the way he did on the tour supporting his 2002 album, The Last DJ, which was a broad condemnation of what had become of the music industry, computers replacing radio deejays, corporations using rock songs to sell beer, cars and trucks, anything and everything. Arriving to loud ovations from the sold-out hockey arena, Petty said he could feel the mojo in the place, name dropping the album title of the bands' 2010 release.
Before the band had played a lick he guaranteed a "100% rock show… no artificial sweeteners, no corporate sponsors. This show is brought to you by you." Acknowledging the 40-year milestone, the band opened with first song from their first eponymously titled album, "Rockin' Around (With You)," which felt like a less than memorable pop/rock offering given the high expectations that Petty and his fans seemed to place on this show, but given all that has come in the years since that album, released in 1976, it was the right place to start.
Comparing the band's long recording career to one side of a vinyl album, Petty claimed the set list was designed as if they were just dropping the needle at different places on the record, with a video of just that running on the large screens behind the stage. But the love fest took off right from the beginning of Tench's opening to "Mary Jane's Last Dance," which predictably turned in to a fan sing-along, the crowd nearly louder than the band on the chorus line: "Oh, my my, oh, hell yes/you gotta put on that party dress." The band felt tight and rehearsed on all the changes, but loose and ready to stretch out on the solos, with Petty taking a bit more of a lead guitar presence on early songs, and Campbell finding cool harmonies and adding riffs that moved in and around what Petty was playing.
And, "You Don't Know How It Feels" followed in similar fashion, Thurston playing the harmonica hook that opens the song, and at least one person somewhere behind our seats who took that line about "rolling another joint" as an invitation.
While most of the 17 song set Petty & The Heartbreakers played were recognizable radio hits, many still getting regular airplay on classic rock formats, and Petty has had enough high charting singles to fill a double disc "essential hits" set, for many of Petty's biggest fans The Heartbreakers really are an album band, with plenty of gold in the recordings deeper tracks. To make that point, and to remind his fans that as recently as 2014 they had released another solid album, Petty inserted "Forgotten Man" from Hypnotic Eye. While some less entranced fans used less recognizable songs to make a beer run, Petty was quick to draw folk back in with follow-ups like "You Got Lucky," which found Campbell stepping out for his first longer, more aggressive guitar solo, much to everyone's delight.
"I Won't Back Down," originally from one of Petty's 3 solo albums but a long time Heartbreakers' concert favorite, once again found the fans singing the "Hey Baby" chorus back in a volume to match the band. And here, the warm band/fan appreciation rose to a high, and the band's ovation at the end of this song seemed to go on and on, so that if you didn't know better you would have thought the band had just played the concert's last song. For his part, Petty seemed quite comfortable bathing in the praise of his bands, and at numerous times different band members seemed more expressive in greeting their fans than I'd seen on past tours. Guitarist Campbell, wore a big floppy green hat an on quite a few occasions during the show, he seemed to wonder to the far side of the stage and waved his hat to the fans there, a mutual admirations society that was ongoing throughout the night.
As the band settled in and got more comfortable, and as the fans kept responding like glad participants rather than mere spectator, Petty and his musicians seemed to feed on the crowd response. After noticing that often Campbell and Petty played complementary guitars, One on a Gibson SG, the other on a Fender Tele, and on and on, each using a different guitar for each song, often maximizing the unique tones and flavors of various their guitars, it was noticeable, that for "Free Fallin'" the two both picked up Rickenbacker semi-hollow body electrics. Petty and Campbell came close together in the middle of the stage and counted off together before playing that song's memorable opening chordal harmonies. To say that it was a guitar fan's little piece of heaven is no exaggeration, as the two players got more and more into playing as the evening moved on.
One thing that you notice as you get past the obvious hooky quality in Petty's writing, that infectious quality that marks a song's musicality as accessible and delightful to the ears, is that Campbell's playing fits naturally up against any given song's melody. What makes Campbell one of the best of the best guitar players in rock is that while he avoids flashy playing for the sake of flashiness, his solos work with the song, both in tone and melodic structure, and when the moments are right, he can elevate a song with a stinging solo, and pull off a stunning emotionally row moment, with power and dexterity, yet without drawing attention to his playing. He's the kind of skilled craftsman who's work embellishes Petty's songs, never distracts from them.

And there's a seamless, textured quality to Ferrone's muscular and musical approach to rhythms, that appears to blend effortlessly with the direction of Petty's song structure, and the unique elements that Tench and Thurston contribute to each piece and you begin to hear what comes from working together decade after decade. Over the long haul the players have learned to support Petty and each other, weaving in and out of the songs in the ways that make the most sense, in such s relaxed and playful fashion that you forget that this kind of chemistry usually only comes from playing as a unit for years and years, eliminating anything that is unnecessary and superfluous.
Add to this fine musical unit, the sibling vocal blend of the Webb sisters, and you have something that's rare and satisfying, yet something that would be difficult to recreate from scratch.
"Walls" followed, from the band's soundtrack album "Songs and Music from 'She's the One,'" with Petty taking a brief one on the harmonica himself, followed by the dramatic "Don't Come Around Here No More," a song that was one of the best videos from Petty's MTV days (remember when that M stood for music?), found Petty picking up his old black top hat, if only in the video above the band, followed by the most psychedelic screen images of the evening, and extensive use of strobe lights when the song was at its musical climax, again earning the band a long ovation.
Petty introduced the band with little stories about each musician, saying that the first time he met Campbell he had gotten his number off a "guitarist looking for a band" poster, and gone to a sketchy house, where the guitarist had torn up Chuck Berry's "Johnny B. Goode," on a cheap Japanese guitar. Petty remembered saying, "you're going to be in my band forever."
The band fell into the slow, throbbing groove of "It's Good to Be King," and you could really feel the maturity and musicality that the musicians brought to the arrangements, Tench adding piano in just the right spaces between the chording of the guitarists, Petty on a Telecaster, Campbell on a Les Paul using an e-bow to vibrate the strings rather than a pick, as the dreamy instrumental began to swell and grow in intensity as Tench moved to organ. Campbell took one of the strongest solos of the night as the song built to a dramatic crescendo. Petty seemed to love directing drummer Ferrone at the conclusion of each song, holding out the songs ending to extremes with a wave of his arms.
Man, oh man, is this a great band, and it was made even better by the way they played supportively, making room for one another to shine, keeping things open, yet crisp, as noticeable on "Crawling Back to You," a deep track from Petty's solo album Wildflowers, which will be re-released in a deluxe edition later this year. Petty picked up an acoustic guitar for the album's title track, which brought the energy in the room down to a low simmer, then Petty began one of his biggest radio hits, "Learning to Fly," and before long the audience took over the vocals and Petty stepped away from his microphone and let us sing the song to him as the band provided accompaniment, Campbell playing an electric mandolin to enhance the acoustic flavor, while Tench added rich organ fills. To finish up the acoustic part of the evening, Petty put on a Guild acoustic 12-string for "Yer So Bad."
With Campbell back on electric, Petty announced, "okay, now we're going to turn the amps up pretty loud," and he sang the only song of the evening without a guitar in his hand, the bluesy "I Should Have Known It." If you're not familiar with it, the song is suspiciously familiar to the riff of "Oh Well," the Peter Green song that Fleetwood Mac covered back in 1969, and the Heartbreakers covered it in 2009.
They closed out their main set proper with two of Petty's biggest hits, "Refugee" and "Runnin' Down a Dream." So far, Petty's set list had followed the pattern of previous concerts on this tour to a T, exactly the same as the May 8 show in Memphis. After a lengthy wait, while the audience continued to deliver a solid cry for an encore, the band came back and perhaps because they were in St. Louis, or perhaps because the "Johnny B. Goode" story that Petty told about the first time Campbell played for him, but the band came back and Campbell burst into a Berry lick, and the band dove into "Carol" with Petty repeating the key lines of the song, "I got my eyes on you baby, 'cause you dance so good," and "I'm gonna learn to dance if it takes me all night and day."
And the band took to it, and because it was not a standard part of their nightly set, they dove in with a lot of energy, first Campbell taking the lead, but shortly Tench took over, leaning into the old school boogie woogie at the rock & roll classics core, echoing Berry's longtime piano player and co-writer, Johnnie Jonhson. Tench got more into as it continued, eventually kicking back his piano stool and rocking the song it a fun expression of enthusiasm was as musically pleasing as it was entertaining.
And then, of course, Petty closed the night out with "American Girl," perhaps his earliest and most sustained success, a song every Petty fan knows by heart, and yet it's still so fun to hear again live. In total it was great evening. Like any Petty fan, one could moan about the songs he didn't play… hits like "Breakdown," "Don't Do Me Like That," "Into the Great Wide Open," or "Jammin' Me," but that's rarely worth noting when an artist plays so much of their catalog and touched so many other of the significant bases in their career. One final note, for a hockey arena, probably seating 18,000, the sound was really good. Arena shows in the olden days were often too loud to overcompensate for the fact that the rooms tended to echo, but with today's improved audio technology, even a space that large had very good sound, and while it was loud enough – well, not loud enough to cover up the drunk guy in the next section who kept standing up during the quieter sections and yelling "hey, Tom Pet-Tee!!!" –but loud enough to enjoy at a rock show, but with all the clarity of a fine listening room.
So is this really the last tour for Tom Petty & The Heartbreakers? Who can say for sure, probably not even Tom. He's 67 years old, and appears to be pretty healthy. And critically speaking, the last couple of band's albums have been very solid works, the Southern rock jam band feel of Mojo, the straight-ahead rocker that was Hypnotic Eye, plus in 2016 he collaborated with his earlier band, Mudcrutch, on a second studio album and a tour… so it's hard for me to believe that he won't get a wild hair and offer up another Heartbreakers record and a few more "last" tours before he really has to call it quits… but maybe that's just wishful thinking… I've been trying to be more optimistic.
-Reviewed by Brian Q. Newcomb
Brian Quincy Newcomb has found work as rock critic and music journalist since the early 80's, contributing over the years to Billboard Magazine, Paste, The Riverfront Times, and The St. Louis Post-Dispatch.
Latest posts by Brian Q. Newcomb (see all)
Please follow and like us: