Guided By Voices


August By Cake
GBV Inc. [2017]


Fire Note Says: Robert Pollard's 100th album is also one of his best.
Album Review: Releasing a shit ton of music is in Robert Pollard's DNA. Even Captain Obvious knows this. And no, he does not hold any kind of record for most songs written or albums released (see R. Stevie Moore or Buckethead for that) but unlike those prolific artists, Pollard's output has remained consistently interesting and, dare I say, relevant. At a time where music is as disposable as a streaming playlist, it is comforting to know that Guided By Voices is still a functioning entity. And for as much as people complain about the rate at which Pollard drops new music upon the world there's this: with pre-recorded music sales at historic lows, the Pollard business model is the envy of every artist out there. As is his work ethic. Platitudes aside, the re-imagining of Guided By Voices is certainly not a new phenomenon and with this latest release (Pollard's 100th album overall) the newest version of the band feels organic, energized and, shockingly enough, democratic.
One could look upon this configuration of GbV as an off-shoot of Pollard's last side project, ESP Ohio, but as the first Guided By Voices record with Doug Gillard since Half Smiles Of The Decomposed it is that era of the band that August By Cake more often evokes. Being their first double album, it is clear that the wizard of Northridge is making a statement here. His ambitions are happily met by a hungry and raucous band that now also includes Bobby Bare, Jr. on guitar and Mark Shue on bass and drummer Kevin March makes his fifth appearance on a GbV album. With a thirty-two-song album to fill, Pollard wisely uses all four of his cohorts to contribute their songwriting and vocal talents. In fact, many of this sprawling set's finest moments come from them. Both of Gillard's songs are first rate. "Good-bye Note" hits early and hard in the track listing and the progressive-leaning "Project/Deflect" is a stand out. March also delivers two winners including the power pop brilliance of "Overloaded" and Bobby Bare, Jr.'s "High Five Hall Of Famers" might just be the best song on the album. Not to be left out, Mark Shue pens three of ABC's thirty-two songs. All of this is a little unsettling at first. Besides Tobin Sprout, no one but Pollard has ever sung on a Guided By Voices album but their inclusion here, nestled among some excellent Pollard tunes, makes for a gripping and entirely enjoyable listen. The expanded canvas size actually works in much the same way Minutemen benefitted from it on Double Nickels On The Dime. More isn't always better but when it is…it's awesome.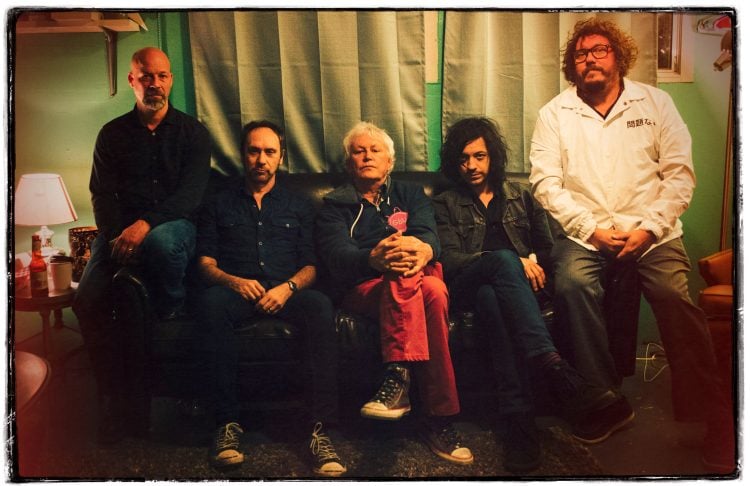 Robert Pollard did not exactly mail it in either, folks. August By Cake is littered with new instant classics like "Amusement Park Is Over" and "Warm Up To Religion" (which is to be expected) but the sheer volume of great songs combined with the fact that there is very little fat on the bone here leads me to believe that there's something going on with this Guided By Voices. Something special. There's a sense of effortless joy at play throughout. A sense that maybe, just maybe, the restless muse of Pollard has found its perfect expression. He told this reviewer last month that he felt this was the best band he's ever had. Those are pretty strong words and hyperbole often accompanies any artists' latest work but it now makes sense. He was being honest. This is what has always drawn people into his universe – honesty. We don't need to understand what the hell it all means – as long as it sounds good really loud. With a highly-motivated Pollard at the helm, GbV head for the desert and a date at Coachella later this month. Lost in a sea of Hip Hop and EDM acts, who else should send the clarion call to arms? Yes, perhaps we all live vicariously via Pollard's rock and roll dreams and with August By Cake we have all been given a reminder that guitar rock is not dead. Thank you, Uncle Bob, and keep fighting the good fight!
Key Tracks: "Overloaded" / "Deflect/Project" / "High Five Hall Of Famers"
Artists With Similar Fire: The Replacements / Cheap Trick / The Who
Guided By Voices Website
Guided By Voices Facebook
Rockathon Records
– Reviewed by Scot Lade
Scot is a classically trained guitar player who has played in such legendary Florida bands as Disorderly Conduct, Foul Existense (sic) and, most recently, wedgepiece. He currently resides in Bellefontaine, Ohio.
Latest posts by Scot Lade (see all)
Please follow and like us: