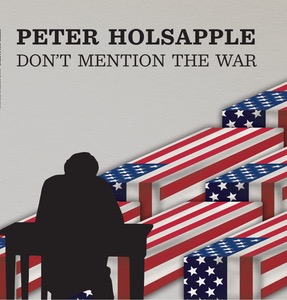 Peter Holsapple, formerly of the late, great dB's, has pressed a new single to 7 inch vinyl, and it's worthy of your attention. "Don't Mention the War," a slow folky blues in the tradition of Bob Dylan's work with The Band, takes on the impact of PTSD on soldiers and their families with a very personal narrative about a beloved uncle. While it feels old school in some ways, it arrives as the perfect companion to Drive-By Truckers' latest, American Band.
For those who can't quite place Holsapple's name, you should know that he worked as a side man with R.E.M. and later Hootie & The Blowfish, and has had a longer history with the Continental Drifters, but in my humble opinion the dB's strong power-pop songwriting in the vein of Big Star deserved a lot more attention back in the day, but were overcome by the onslaught of interest in alternative sounds coming out of Athens, GA and elsewhere in those days.
Peter has pressed a limited 7″ of "Don't Mention The War" with the b-side "Cinderella Style." A picture sleeve and download card are included. You can order your copy HERE.

-Feature by Brian Q. Newcomb
Brian Quincy Newcomb has found work as rock critic and music journalist since the early 80's, contributing over the years to Billboard Magazine, Paste, The Riverfront Times, and The St. Louis Post-Dispatch.
Latest posts by Brian Q. Newcomb (see all)
Please follow and like us: