Alabama Shakes


Sound & Color
ATO Records [2015]



Fire Note Says: Alabama Shakes take you on another pendulum ride full of raw expression.
Album Review: Three years ago, when Alabama Shakes came out of nowhere to rock the world with their debut, Boys & Girls, driven by soulful R&B-influenced roots rock and the stunningly unique voice of Brittany Howard, it was a breath of fresh air. In a world of TV singing contest vocalists and air-brushed, ready for prime time pre-packaged paint-by-numbers musical productions, they were a reminder that it was still possible for organic, original music to surprise and delight, that true talent comes in a variety of shapes and sizes. In live performances and late-night TV appearances, they upped the ante, breathing more energy and spirit into their recorded work.
With Sound & Color, the band returns with a more nuanced and broadened approach to the Stax/Memphis R&B and soulful blues that inspired Alabama Shakes in the first place. On "Miss You," a quiet ballad that builds to a barnstormer, Howard leans toward Smokey Robinson before unleashing her inner Janis. That pendulum ride between the tried and true and raw expression.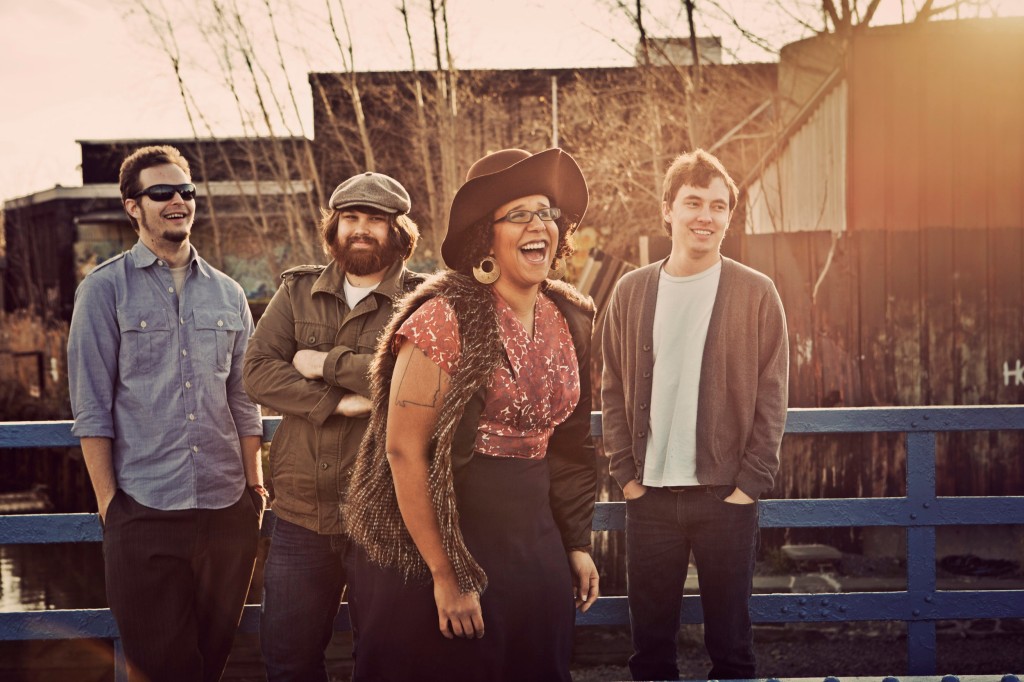 The original quartet – Howard on vocals & guitar, Heath Fogg on guitar, Zac Cockrell on bass, and Steve Johnson on drums – get ample support from touring keyboard giant Ben Tanner, bringing the B3 to fulfill its sacred role, subtle layers of ringing piano chords, the subtle vibes that open the title track. On "Gemini" they stretch out in languorous psychedelia, "The Greatest" is a punky garage-burner, but "Don't Wanna Fight" and "Gimme All Your Love," the disc's two singles (do we still buy singles?), follow a more traditional R&B formula. Well, as much as Alabama Shakes will follow any formula.
Rightly so, though, much of the attention and devotion on these tracks comes from Howard's vocal delivery. Her lyrics rarely suggest anything deep or personal, but she fills each song with an emotional breadth and sensitivity that makes them come alive in ways you don't expect when you read them on the page. She squeaks and squeals, floats above the fray in a falsetto that reaches for the stars, or digs deep, grounded in gritty soulfulness. While the band often feels restrained, choosing a somewhat restrained minimalism over a more expressive palette or jam band soloing, the fire is still simmering below the surface, the energy still real, following Howard's lead.
Key Tracks: "Don't Wanna Fight" / "Gimme All Your Love" / "Miss You"
Artists With Similar Fire: Carolina Chocolate Drops & Rhiannon Giddens / Otis Redding / Big Brother & the Holding Company (featuring Janis Joplin)

Alabama Shakes Website
Alabama Shakes Facebook
ATO Records
– Reviewed by Brian Q. Newcomb
Brian Quincy Newcomb has found work as rock critic and music journalist since the early 80's, contributing over the years to Billboard Magazine, Paste, The Riverfront Times, and The St. Louis Post-Dispatch.
Latest posts by Brian Q. Newcomb (see all)
Please follow and like us: