Ryan Adams


1984
PAX-AM Records [2014]


When I took a look at Ryan Adams latest 7-inch, I thought that the track listing was a joke. 10 songs? Seriously?! Well that is right. 1984 is the next installment of Adams' PAX-AM 7" series and it is a 13 minute keeper. Completely separate from his forthcoming self-titled release, 1984 is an homage to some of the earliest releases on SST, Dischord, Touch & Go and any other similar labels from back in the day.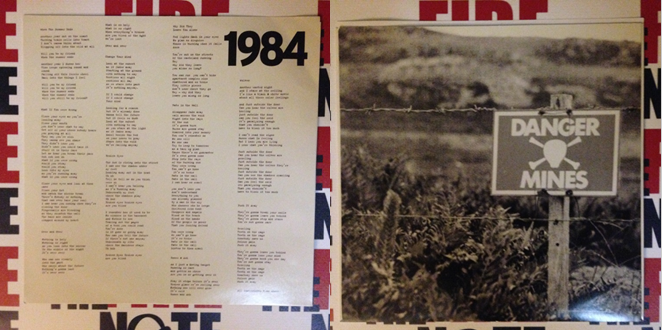 To honor that era of recording Adams explodes on these 10 songs that are all almost just over a minute long. Being a fan of short tracks this record is exciting because Adams totally pulls it off. The opening "When the Summer Ends" sets the tone with its guitar filled early Lemonheads sounding mix and feels complete even though it runs 1:11. The loud and free Adams continues to roll through song by song with urgency and accuracy that sucks you in. Crank the 38 second "Over And Over" up and it won't disappoint. I like how he is able to make these short tracks feel complete with verse and chorus while also adding in some extras. "Rats in the Wall" ends with sudden glass breaking while "Push It Away" closes down this riot fest with some chuckle of laughter that just feels right. Adams makes this 7-inch worthy of picking up by making quality and catchy music that on the surface may seem like a novelty but once you dig into 1984 you may not come back!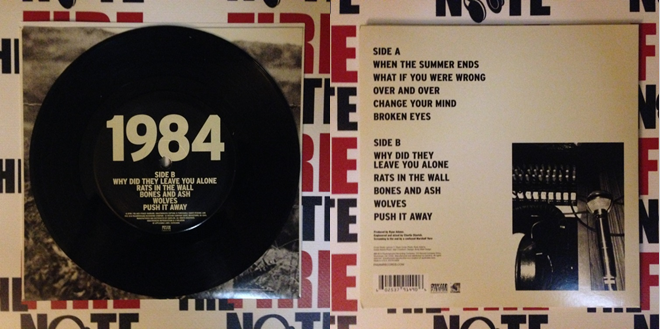 The jacket is a standard cardboard with artwork on both sides. I don't believe there is an official pressing number but Ryan Adams' Pax-Am series is typically somewhat limited, although I still believe the number here is much higher than some of his older releases. The inner sleeve not only has artwork on one side but a full lyric sheet printed on the other giving 1984 a true album vibe. The record plays at 45 rpm and is on a standard black wax. If you want one I would suggest checking your local indie store first and then heading to the second hand market if you come up empty.
Ryan Adams Website
Ryan Adams Facebook
PAX-AM Records
-Feature by Christopher Anthony

After spending the early 90's managing a record store, the mid to late 90's producing alternative video shows and 00's blogging about the music scene Christopher Anthony is always ready to hear new music.

Latest posts by Christopher Anthony (see all)
Please follow and like us: