TV Ghost


Disconnect
In The Red[2013]



Fire Note Says: Lafayette Indiana's TV Ghost puts it all together on their excellent third album.
Album Review: Every era, every genre will have a revival. Some, depending on current trends, may experience multiple revisitations. Late 70's/early 80's UK post-punk has seen more than its share. And why not? Joy Division, Siouxie and the Banshees, Bauhaus, The Cure, Echo and the Bunnymen were all great bands. And we all saw how successful Interpol was at re-imagining that classic sound. So what's going on here that's any different? Plenty!
For starters, TV Ghost incorporates the entire realm of post-punk into their songs – the goth guitars, spooky keyboards, hypnotic mid-tempo rhythms, deadpan vocals, the works. But they also adeptly infuse their music with a little Cramps, a dash of Scientists, even a glimmer of Can. Now just having good taste doesn't automatically translate into the ability to record a great record. Hell, I have a really good record collection too. Never helped too much. As always, it boils down to the songs and Disconnect has ten really good ones. Opener "Five Colors Blind" sets the tone right away. The Echo and the Bunnymen influence is strong and singer Tim Gick gives us pretty good Ian McCulloch. But there's also more than a little Daniel Ash as well. The production is suitably dense but each instrument is given plenty of space to breath. "Veils" sounds like it was performed in a cave and yet the guitars have that clean reverb setting so many bands attempt and never quite master. Credit should probably go (at least in part) to Ty Segall collaborator Chris Woodhouse. His producer's touch hits all the right epoch-specific notes. This could have easily turned into a typical In The Red release. Instead it may be the definitive outlier in that label's awesome roster.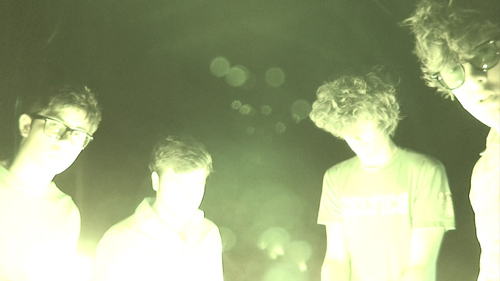 Certain tracks opt for a more psychedelic approach but are no less enjoyable. Slow burner "Placid Deep" could be a real bummer were it not for TV Ghost's expert rendering. "Stranger" throws in some cool Mellotron that adds to the gloomy mood. Things actually pick up on Disconnect's second half. Songs like "Elevator" and "Cloud Blue Moment" show how far this band has come in just a few short years. They're not as frantic; they allow themes and riffs to grow organically now where they once forced the issue. That leads us to the penultimate (and best) track on the album. "Others Will Be Born" is an angular, almost jarring song. Jackson Van Horn's guitar work is terrific here as he channels early XTC while Gick murmurs way back in the mix. The Mellotron returns and the band careens its way through the feedback and motorik back beat. It's a great track and hopefully signals the direction they might take going forward.
There is merit in being original. There is also merit in being good. TV Ghost are good. Really good. Disconnect is the record you didn't know you needed to hear. After all, how many of us are holding our breath waiting for a new Interpol album? Not me. But as album closer "Siren" comes to an end I find myself wanting more. I may, in fact, hold my breath for a new TV Ghost album.
Key Tracks: "Others Will Be Born", "Five Colors Blind", "Veils"
Artists With Similar Fire: Interpol / Echo and the Bunnymen / Bauhaus

TV Ghost Facebook
In The Red Records
-Reviewed by Scot Lade
Scot is a classically trained guitar player who has played in such legendary Florida bands as Disorderly Conduct, Foul Existense (sic) and, most recently, wedgepiece. He currently resides in Bellefontaine, Ohio.
Latest posts by Scot Lade (see all)
Please follow and like us: