The Dandy Warhols


Thirteen Tales From Urban Bohemia (13th Anniversary Edition)
Capitol Records [2013]



Fire Note Says: The Dandy Warhols celebrate Thirteen Tales with an expanded anniversary edition.
Album Review: 2013 marks the thirteenth anniversary of The Dandy Warhols Thirteen Tales From Urban Bohemia and that probably leaves you saying – so what? Well in this day and age of deluxe, anniversary, and expanded editions it should not surprise you that Capitol Records thinks you should care. For no other reason than that I really like the first three records in The Dandy Warhols catalog I will totally buy into an expanded remastered edition of what many critics consider The Dandy Warhols best record. Personally I would argue that The Dandy Warhols Come Down (2001) challenges this record for the top spot but from a commercial perspective I suppose I can side with Thirteen Tales coming out on top. In addition to the remasterd record the second disc here gives you unreleased session outtakes, early and alternate mixes, and home demos of songs from the album.
There is support for an expanded Thirteen Tales From Urban Bohemia as the record hit The Billboard 200 and reached No. 12 on Billboard's Heatseekers chart upon its 2000 release plus housed the catchy single "Bohemian Like You" which reached the Top 30 on Billboard's Modern Rock Tracks chart. For me, this album took the more raw Minneapolis sound of their first two albums and refined it into a sleek moody groove record from beginning to end while still retaining an indie edge. Thirteen Tales stands out because from a song perspective you can tell the band was truly focused on the material and its cohesiveness. This was a complaint of earlier records and then after Tales the band started drifting more into the psychedelic realm plus other directions that had some just categorize their sound as weird. The catchy power pop hooks disappeared and it didn't help the band that more and more time elapsed between record releases.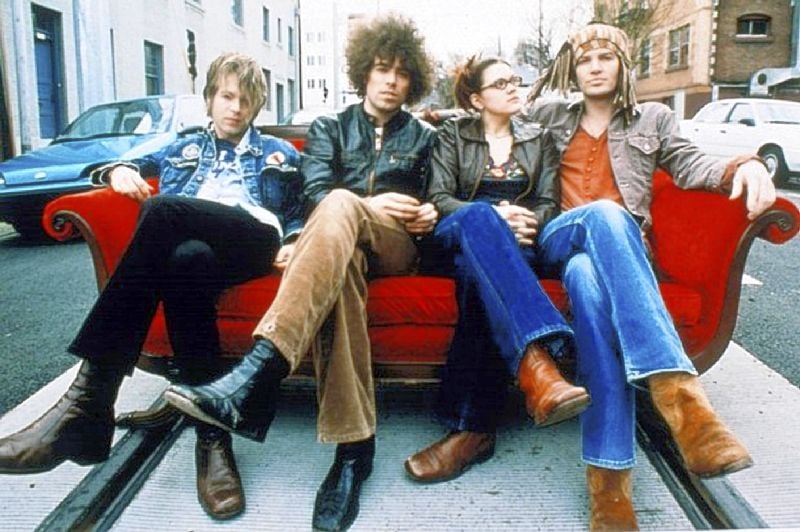 Thirteen Tales From Urban Bohemia will most likely always be looked back on as the band's best record and the standard that anything else they release will be held up against. I still really like "Get Off", "Horse Pills" and "Bohemian Like You" while the sequencing of the first three tracks still makes me cringe a bit as "Godless", "Mohammed" and "Nietzsche" all run over the five minute mark and sort of bog down the opening.
The second disc here is an interesting listen for Dandy fans but not essential. All of the tracks are unreleased which is nice from a collector standpoint although it would have been better to include some of the b-sides that showed up on the album's singles. The best part of these extra tracks comes in the form of the Courtney Home Demo's which are so much more raw and rock sounding. "Bohemian Like You" turns into a garage rocker while "Godless" is a rollicking acoustic based two minute soaring number that has you hooked from its beginning. Hearing these tracks in this style shows that Thirteen Tales could have been completely different and maybe even better had it went down a Rolling Stones direction. One will never know but I enjoyed hearing the extra material. Is it something that will have you coming back for return listens? Probably not too much but if you have the opportunity and are a Dandy Warhol fan make sure to check these tracks out – especially if you don't already own a copy of this album.
Key Tracks: "Bohemian Like You (Courtney Home Demo)", "Godless (Courtney Home Demo)", "Dub Song (Courtney Home Demo)"
Artists With Similar Fire: The Velvet Underground / Love And Rockets / The Rolling Stones
The Dandy Warhols Website
The Dandy Warhols Facebook
Capitol Records
-Reviewed by Christopher Anthony

After spending the early 90's managing a record store, the mid to late 90's producing alternative video shows and 00's blogging about the music scene Christopher Anthony is always ready to hear new music.

Latest posts by Christopher Anthony (see all)
Please follow and like us: