Jim James: Regions Of Light And Sound Of God [Album Review]

Jim James


Regions Of Light And Sound Of God
ATO Records [2013]



Fire Note Says: Jim James shows off his soul on his debut solo album Regions of Light and Sound of God!
Album Review: Like any frontman going out solo there always is a big question mark on what the record will sound like. For My Moring Jacket's leader, Jim James, I believe the question was not if but how will this album be different because James has had his hands in so many different projects over the years with the most notable being Monsters of Folk, the Woody Guthrie tribute New Multitudes and his solo moniker Yim Yames material. This of course leaves the door wide open for Regions of Light and Sound of God and James comes right through with a warm 70's sounding record filled with true soul that was inspired by life and the novel 'God's Man' by Lynd Ward.
Right from the opening track "State Of The Art (A.E.I.O.U.)" you get this inching jazzy number that for the first two minutes is all Jim's vocals and piano keys creating the vibe. Then this slow steady drum beat kicks in and eventually leads the listener into more instrumentation that never moves the song above this slow cool tempo but becomes completely full right in front of your ears as the over 5 minute track sets the tone for the rest of Regions of Light and Sound of God. Next up is the over six minute "Know Til Now" which follows the lead off track but now sprinkles in psychedelic pieces that gives the track a bit of mystery and a bit of Phil Spector-esque mojo. First single, "A New Life" is one of the more upbeat tracks on the record as it builds on this same undertone of soul that comes to an almost doo-wop conclusion that might sound a bit goofy but with James's vocals leading the croon it works as the beats stop and start right from his cue.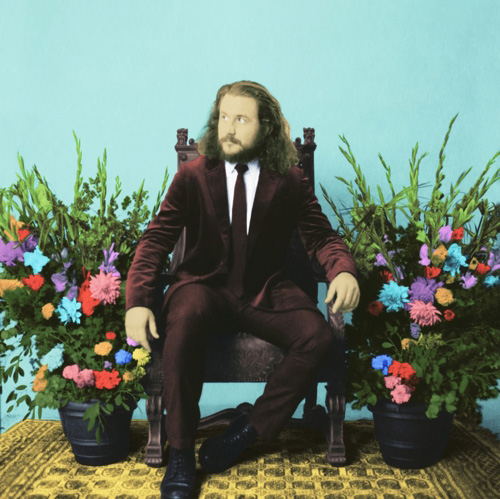 With the exception of the strings and percussion, Regions of Light and Sound of God was written, produced and performed 100% by Jim James. This ownership keeps his focus on the album and turns these mid-tempo numbers into memorable compositions that only get deeper and richer upon repeat listens. From the modern sounding instrumental "Exploding" to the very Beatles meets banjo finale "God's Love To Deliver", Jim James has accomplished creating something completely different from his side projects and My Moring Jacket. This separation is good for both the artist and Regions of Light and Sound of God because it is recognizable enough that MMJ fans will enjoy this album but still diverse giving long time listeners a fresh sound. Solo projects like this are always a tightrope and in this case Jim James definitely makes it safely to the other side!
Key Tracks: "State Of The Art (A.E.I.O.U.)", "Actress", "A New Life"
Artists With Similar Fire: George Harrison / Van Morrison / Jeff Lynne
Jim James Website
Jim James Facebook
ATO Records
-Reviewed by Christopher Anthony

After spending the early 90's managing a record store, the mid to late 90's producing alternative video shows and 00's blogging about the music scene Christopher Anthony is always ready to hear new music.

Latest posts by Christopher Anthony (see all)
Please follow and like us: