The People's Temple: More For The Masses [Album Review]

The People's Temple


More For The Masses
HoZac Records [2012]



Fire Note Says: The People's Temple have the tunes to match their swagger!
Album Review: In late 2011, The People's Temple first showed up on my radar with their album, Sons of Stone, which was a nice piece of Byrds via Black Rebel Motorcycle Club rock and roll. It was garage in spots, psychedelic in other spots, and generally a solid record which as we moved into 2012 continued to get lots of play from me. I soon became aware of some other great bands on the HoZac label, and started devouring as much of it as I could get my hands on, as it quickly became a favorite "go-to" label for something new and interesting. I was excited when I found out that there was going to be a new People's Temple record, and from the moment it started, More For The Masses, did not disappoint.
More For The Masses still sounds like it was recorded in a garage in the mid-sixties, and that sound fits the music perfectly.  Tracks like "Looter's Game" are short and punchy and infused with the snotty punk attitude and R+B influence of The Animals, and the urgency of The Sonics. "House of Fools" shows the band stretching things out a bit; the track has a very VU feel to it, dirty and lo-fi.  "Fortune Teller" is a slow raga tune that sounds like it was on Aftermath by The Rolling Stones.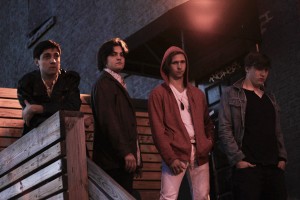 The People's Temple perfectly capture the time and feel of that era on More For The Masses. Fans of compilations like Nuggets and Pebbles and the like should definitely check these guys out, they could be your new favorite band. They bring the energy, that's for sure. It's fairly easy and common for bands to try and capture the sound of this era, that's the easy part. The hard part is having the tunes to back up the sound, and make no mistake, The People's Temple have the tunes. If they didn't this would be yet another run of the mill garage rock homage, instead, it's an exciting new album from a band with a bright future!
Key Tracks: "Looter's Game", "The River (Donovan's Song)", "Fortune Teller"
Artists With Similar Fire: Heavy Times / The Brian Jonestown Massacre / Idle Times
The People's Temple Facebook
HoZac Records
-Reviewed by Kevin Poindexter

Kevin has spent the past six years as a partner in an independent record label in addition to his duties at The Fire Note. Kevin prefers cd and digital to vinyl by a fairly wide margin and has begun the process of giving his vinyl away (not the valuable ones or the gbv related ones though so don't ask).

Latest posts by Kevin Poindexter (see all)
Please follow and like us: