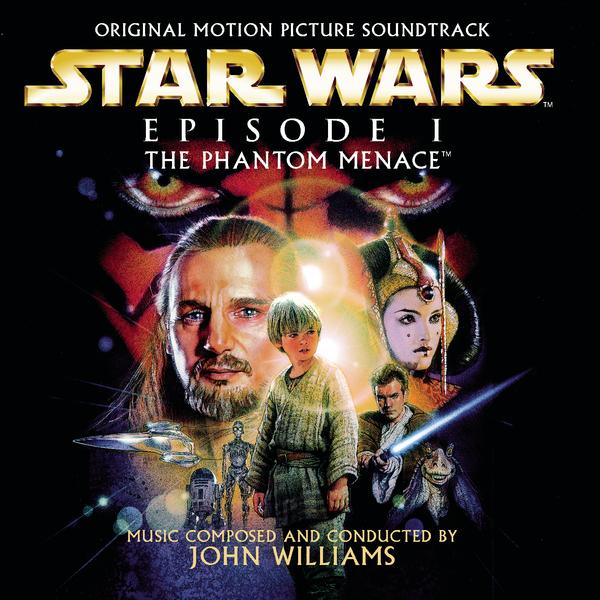 For the very first time ever on limited edition vinyl, I Am Shark, will be releasing the original soundtrack to Star Wars Episode 1: The Phantom Menace, scored by legendary composer John Williams. This will be part one of three, continuing on the latest trilogy soundtracks, as well as I Am Shark's new face as an independent label for Film/TV/Game soundtracks. The release will be in 2xLP format, with limited color versions coordinating with characters through out the movies. I've attached mock up photos for a relative idea of what we have envisioned for the colors. Ship date: March 4th, 2013
You can order a copy from HERE. 50 limited bundle packages will be available with all colors/pressed versions, one random winner will receive a test press version of the album (only 10 test press copies exist).
Track Listing:
Star Wars Main Title and The Arrival at Naboo – 2:55
Duel of the Fates – 4:14
Anakin's Theme – 3:05
Jar Jar's Introduction and The Swim to Otoh Gunga – 5:07
The Sith Spacecraft and The Droid Battle – 2:37
The Trip to the Naboo Temple and The Audience with Boss Nass – 4:07
The Arrival at Tatooine and The Flag Parade – 4:04
He Is the Chosen One – 3:53
Anakin Defeats Sebulba – 4:24
Passage Through the Planet Core – 4:40
Watto's Deal and Kids at Play – 4:57
Panaka and the Queen's Protectors – 3:24
Queen Amidala and The Naboo Palace – 4:51
The Droid Invasion and The Appearance of Darth Maul – 5:14
Qui-Gon's Noble End – 3:48
The High Council Meeting and Qui-Gon's Funeral – 3:09
Augie's Great Municipal Band and End Credits – 9:37
Total Time: 74:23
Officially Licensed by Sony Music and Lucasfilm LTD. You can check out the Darth Maul vaiation below.

Pressing Information
Limited Colors
2000 – Hyperdrive (Black w/ White Splatter)
2000 – Darth Maul (Black w/ Red/Gold stripe)
2000 – Qui-Gon Jinn (Green / Brown Marble)
2000 – Obi-Wan Kenobi (Blue)
Black / 180 Gram Versions will be constantly kept in stock and distributed to retail stores as well.

Latest posts by Christopher Anthony
(see all)