"Precious Downtime" is the 4th LP by Indianapolis based psych/power-pop band S.M. Wolf, due out on Romanus Records digitally August 27th and on vinyl Sept 4th. While the band's previous three albums dealt heavily with topics like loss, grief and divorce, this album is decidedly lighter, focusing on themes like rebirth and growth. Coming in at thirteen tracks, the album covers a wide range of sounds. The band touches on 90s indie rock slacker vibes on tracks like "Let it Go" while paying equal homage to 70s era swirling guitars on tracks like "A Brighter Day". They even manage to squeeze in a piano duet with lead vocals performed by songwriter Adam Gross and drummer Melanie Rau's dog Obi on "Obi Try." While tracking for Precious Downtime began in 2019, the album wasn't finished until January of 2021. The band had planned to take some time off from recording to tour the states and Japan and also while Adam changed careers (from elementary school teacher to local NPR announcer). Just as recording started back up, however, the pandemic hit and the band recorded the remainder of the record in small groups with some parts being tracked in their individual homes. Despite the disjointed nature of the recording, Precious Downtime is perhaps the band's most polished and most collaborative effort to date.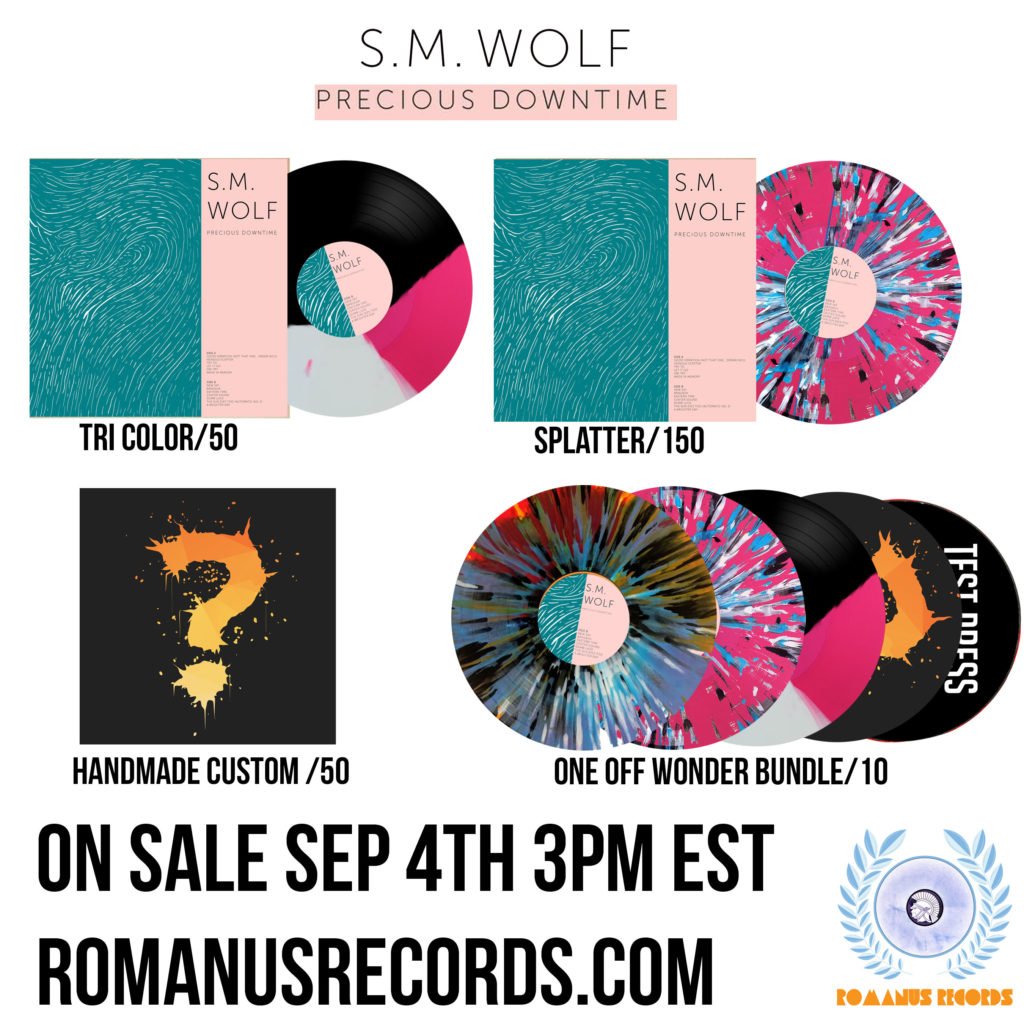 Based in Indianapolis, S.M. Wolf has released three previous LPs and several EPs working with labels like Joyful Noise Recordings (releases by Sebadoh, Deerhoof) and PIAPTK (releases by Dr. Dog, Flaming Lips). They've had previous press coverage on outlets like Nerdist, Impose and Magnet Magazine and airplay on radio across the country. The band is a fluid group that writes around the songs of singer/guitarist Adam Gross but consist of regular mainstays Melanie Rau (drums), Ben Leslie (bass), Rachel Ennekeng (keys) and Bryan Unruh (guitar/keys). The band in its different incarnations have toured the states several times and have also toured internationally in Japan and Europe.
As always the vinyl is where its at with Romanus Records and once again they have some great choices. The vinyl all goes on sale tomorrow at 3pm EST.
You will be able to order HERE.
Latest posts by Fire Note Staff
(see all)