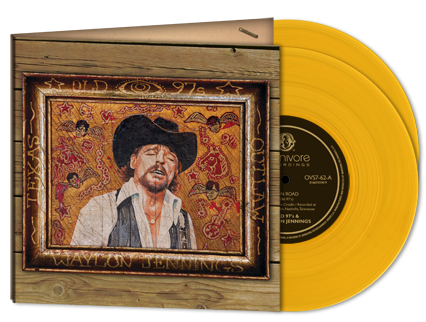 Waylon Jennings attended an Old 97's gig in 1996, and later that year joined Ken Bethea, Murry Hammond, Rhett Miller and Philip Peeples in a studio in Nashville to cut two tracks. The youthful energy of Old 97's with the classic delivery of Waylon Jennings. Sadly, Waylon passed away and these recordings—some of Jennings' last—never saw the light of day.
Omnivore Recordings is proud to announce the first ever release of those two songs, "Iron Road" and "The Other Shoe." "Iron Road" would eventually arrive as a live version on 2005's Alive & Wired along with "The Other Shoe" (which first appeared on Old 97's second album, 1995's Wreck Your Life.) To make it even more special, this release will have two more previously unissued demos: "Visiting Hours" (a live version appeared on 2011's The Grand Theater Vol. 2) and "Fireflies" (re-recorded by Rhett Miller for his acclaimed 2006 solo album The Believer.)
These four songs will be available on double colored vinyl 7″ set, packed in a gatefold sleeve with art from Jon Langford (of The Mekons & Waco Brothers, and renowned painter of Country Music icons) and insightful and hilarious liners from the band's Rhett Miller, which put you right there in the studio. The package also includes a download card, offering digital files of the four tracks. These historical documents finally see the light, 17 years after being recorded!
7″ Disc 1:
Side 1: Old 97′s & Waylon Jennings
1. IRON ROAD
Side 2: Old 97′s & Waylon Jennings
1. THE OTHER SHOE
7″ Disc 2:
Side 1: Old 97′s
1. VISITING HOURS (1996 Demo)
Side 2: Old 97′s
1. FIREFLIES (Take 2, 1996 Demo)
All four tracks previously unissued

Latest posts by Christopher Anthony
(see all)