White Lung


Deep Fantasy
Domino Records [2014]


Fire Note Says: White Lung bring forward their hard hitting sound.
Album Review: If Vancouver's White Lung have not been on your radar then here is your wake up call. The band's third LP, Deep Fantasy, is a rip roaring punk record that will easily remind you of early albums by the likes of Hole, L7, and Babes In Toyland. If you are like me, that is all you need to hear to jump into Deep Fantasy and White Lung's pummeling 23 minutes of effortless in your face rock.
The group already has two energy filled records under their belt and so far each one has shown some small progression from their beginning raw punk into a slightly more melodic output. Deep Fantasy is no different as the band continues forward. This inviting sound works for the listener as it pulls you into the songs before beating you down with its hard pounding skins and singer Mish Way's forceful but controlled vocals. Opening track, "Drown With The Monster" is a perfect example of this as the music blows up around the vocals like a country under attack while Way steps around the explosions with her words (some sung, some screamed) as she takes a hard look at addiction. This track will assure older fans that the White Lung they know did not go anywhere while the next track "Down It Goes" is the song that pulls all of us early 90's alt rock fans into the fold as Way snarls the opening line "I'm not as strong as you" with such a confident attitude that you immediately take notice. You also will hear a very strong resemblance to Courtney Love's voice – I am talking about the one I still really like on Live Through This (1994). Along with "Snake Jaw," I hear Way's vocals progress from earlier albums as she has really found her groove slowing down a tenth of a second and really singing the lines. For me, it is the difference between being a good female lead punk trio and being a memorable force of a band that makes a statement.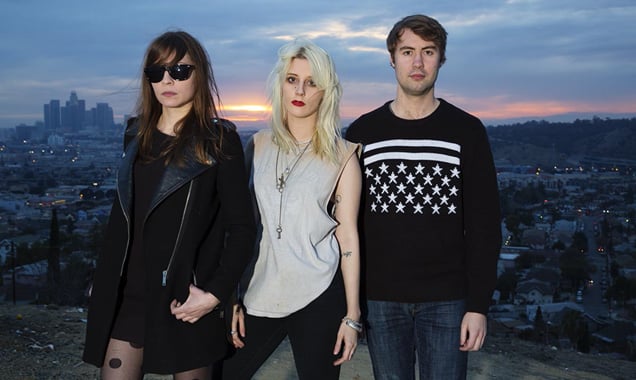 Deep Fantasy still ends way too fast and does have some repetitive song structures with its slightly over 2 minute song average. I think it is the best record to date for the band as they have planted plenty of catchy hooks throughout this album that really stick in your head and make you want to hear it again. As the album closes, White Lung do offer some slight variation as "Lucky One" has several call outs that make it different and I could hear this track being expanded live. Also on the final track, "In Your Home," the song has a nice 20 second build up from a peaceful start into a mid-tempo pace that works for White Lung. They prove that not every track needs to reach for the throat or throttle but they can still bring a fierce sonic experience. It also is the longest song on the record at 2:47.
I think if White Lung is going to break out to a larger audience, Deep Fantasy is the ticket. It is a quick engaging record that is perfect for the summer and absolutely takes no crap. It showcases the tightness of the band and singer Mish Way as a leader to watch. Compared to their previous outings, there are subtle sonic enhancements throughout Deep Fantasy that not only keeps you entertained but highlights that White Lung may be on the edge of something bigger!
Key Tracks: "Down It Goes " / "Snake Jaw" / "Lucky One"
Artists With Similar Fire: Hole / Perfect Pussy / The Distillers
White Lung Website
White Lung Facebook
Domino Records
– Reviewed by Christopher Anthony

Latest posts by Christopher Anthony
(see all)