Water Liars


Water Liars
Fat Possum Records [2014]



Fire Note Says: Water Liars return with another batch of emotional sing-alongs.
Album Review: Don't let the new self-titled effort from Mississippi's Water Liars fool you as it is the band's third full length album and one of their most accomplished records to date. The group once again brings a blue collar approach to their music which is highlighted by its bluesy Americana and rock mix. Last year's Wyoming (TFN Review) found the group looking down the bottle as their tracks of relationships gone bad set a strong emotional tone. Water Liars expands on some of Wyoming's ideas and pushes this record into a more overall dynamic sound.
It starts with the opening track "Cannibal," as its crashing guitar and drums open the song up before Justin Kinkel-Schuster's Jim James type vocals soar into the verse. It is a big simmering song that sets the tone for Water Liars. "I Want Blood" is the next track that will really catch your ear as it has a true sense of urgency when Kinkel-Schuster sings "strange lands hold no fear for me." This passion that is behind the Water Liars' songs creates a visual image into their world and their lyrics are your guide. On the memorable ballad "Swannanoa," lines like "I looked death in the face – it was only my father" provides a testimonial of trying desperately to find oneself and digs deep into your psyche.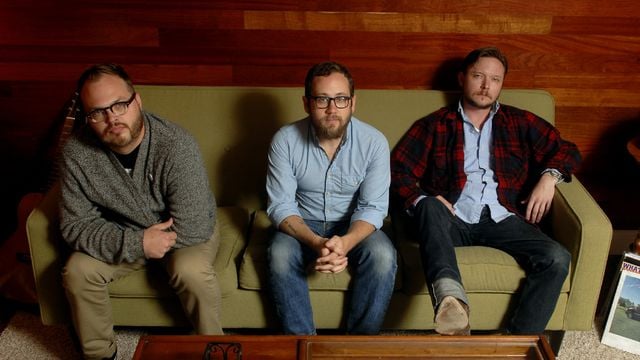 This is a record that takes several spins to absorb as its lyrical impact goes deep. Water Liars is very comparable to Wyoming as it is meant for a peaceful listening environment but contains more upbeat moments with all-out rockers like "Ray Charles Dream" that set it apart. These "moments" bring a better balance to Water Liars sound and not only will play great live but highlight their progression in both songwriting and showmanship. Water Liars are a working man's band that succeeds in hitting your nerves with lyrical darts while making smoking a cigarette and shooting back some whiskey seem like a perfect and needed nightly ritual!
Key Tracks: "I Want Blood", "Swannonoa", "Ray Charles Dream"
Artists With Similar Fire: My Morning Jacket / Jason Molina / Band Of Horses

Water Liars Website
Water Liars Facebook
Fat Possum Records
– Reviewed by Christopher Anthony

Latest posts by Christopher Anthony
(see all)