Wand


Golem
In The Red Records [2015]




Fire Note Says: The title says it all; Wand's Golem is a fantastical, heavy monster.
Album Review: Please do yourself a favor and shout it from the mountain tops, "WAND IS BACK!" Coming out of nowhere with their debut Ganglion Reef—my number six top album for 2014—Wand devised a sound few could do so well. Sounding like a band the Elephant Six collective long forgot, Wand has returned less than a year later with new tricks up their sleeves. This time around Wand have adapted to their new roots at In The Red; partially ditching the pop flavors, Golem now blends more seamlessly with the label's other acts like Endless Bummer, Ty Segall Band, Meatbodies, Thee Oh Sees, Zig Zags, and FUZZ.
Golem Is an odd hotbed of spacy flavors while still maintaining the psych-pop categorization. "Planet Golem" throws that label for a loop and takes a trippy, menacing, doom-sludge stance. It's nuggets like this that throw the listener and keep the experience otherworldly. Even the "reserved" "Melted Rope" makes a simple, appreciated call back to Ganglion Reef, but Golem really gains steam from the consistency of its tracks. Creating a garage odyssey that rivals Thee Oh Sees Carrion Crawler/The Dream, the band open the album with the line "Two headed dog, with the eyes of a man" ("The Unexplored Map"), calling on a Cerberus-like hellhound to take us deeper into Wand's psychedelic sizzle. The energy never stops as "Self Hypnosis In 3 Days" only breaks to briefly to act as a gentle interlude the cosmic momentum. "Reaper Invert" takes a trashy low E to C KoRn tuning and churns out a Negaverse version of Tame Impala's "Apocalypse Dreams," while "Floating Head" plays like a lost track from Ty Segall Band's Slaughterhouse sessions.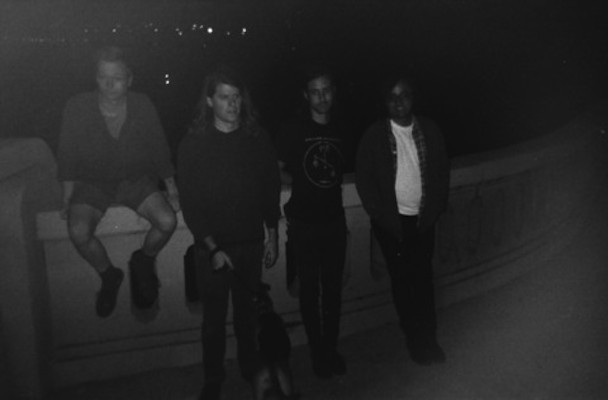 Wand came to be with a few factors in mind: Wand hears ghosts. Wand prefers serpents. The Sun is the mother of every fiction. All phenomena will be consumed in alphabetical order, but desire will recirculate ad infinitum. Wand's Golem is a steel-forged satellite. It's a rocket-propelled cosmic orbiter that achieves weightlessness. It charts unexplored territory and, with it's final track "The Drift," leaves the solar system only to resume it's constant orbit again and again. Golem takes little cues from Ganglion Reef and pushes its heavier direction to the extreme. Wand has crafted a worthy follow up that we're sure to see on end of the year lists. Who knows what they'll do next?
Key Tracks: "Self Hypnosis In 3 Days" / "Floating Head" / "Planet Golem"
Artists With Similar Fire: Thee Oh Sees / Ty Segall Band / Meatbodies

Wand Website
In The Red Records
-Reviewed by Christopher Tahy

Latest posts by Christopher Tahy
(see all)