Unknown Mortal Orchestra


Sex & Food
Jagjaguwar [2018]


Fire Note Says: Unknown Mortal Orchestra shed some synths for more strings in this fun batch of songs.
Album Review: I'll alway remember the first time I heard Unknown Mortal Orchestra. In that basement in 2011 I'd never heard a style like it. I didn't know that such a bubbly form of psychedelic lo-ficould exist. Ruban Nielson has kept the core of Unknown Mortal Orchestra pretty solidified since its' conception. But, it has been small twists that have improved on the formula. II delve a little deeper into song construction with beautiful, intricate hits such as "From The Sun" and "Swim and Sleep (Like a Shark)." Follow up Multi-Love took Nielson's lo-fi, psych to synth based, pop perfection with track like the title track, "Can't Keep Checking My Phone," and the winding "Necessary Evil." New album, Sex & Food takes an interesting approach as Nielson steers UMO back towards the guitar.
In an interview with Radio NZ, Ruban says, ""When people write about my music, they put all this heavy stuff on it… Music is fun and healing and creates magic in an environment. It should relieve burden. People are definitely going to dance and laugh and have sex to this music, so it mustn't be that serious. I don't see anyone … having sex and dancing to the BBC world service." That's the feeling that Sex & Food pushes. Neilson isn't a horseman of the apocalypse, he's a sexy, groove merchant. "A God Called Hubris" intros the album with a dreamy "1983.. (A Merman I Should Turn to Be) vibe. Keeping in with the Hendrix continuity, Nielson launches into the alien like gallop of "Major League Chemicals." "Hunnybee" is UMO's strongest combinations of brass and guitars. It's also one of the most perfect tracks on the album. "American Guilt" takes a heavy, almost sludgy garage approach with a riff that was born out of Nielson's Mint Chick days. "Everyone Acts Crazy Nowadays" is another perfect example of engaging melody and pulsing, addictive backbeat-really fun track.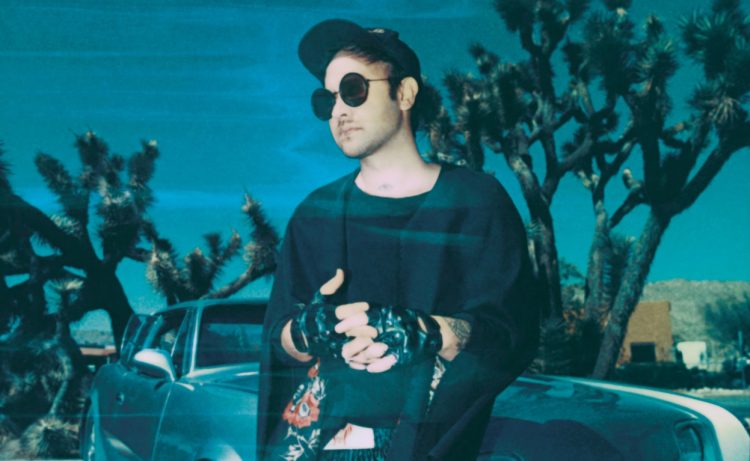 Really, the biggest problem with Sex & Food is its' failure to stick its' ending. "This Doomsday," "Not in Love We're Just High," "If You're Going to Break Yourself" are all fun in the pantheon of UMO song but, there's a sleepy vibe that makes the album feel like it's front loaded with the best tracks. Ruban told NME, that he wanted to keep the album title "simple and dumb." It goes back to his concept of not overthinking, a record not meant to create "burden." Sex & Food succeeds in those aspects, at face value-like many of UMO's catalogue-it's a fun, groovy record. You can dissect this record and take the messages as seriously as you want. But, ultimately UMO will just continue to laugh at the apocalypse because why wouldn't you.
Key Tracks: "Hunnybee" / "American Guilt" / "Everyone Acts Crazy Nowadays"
Artists With Similar Fire: Drugdealer / Melody's Echo Chamber / Mile High Club
Unknown Mortal Orchestra Website
Unknown Mortal Orchestra Facebook
Jagjaguwar
– Reviewed by Christopher Tahy

Latest posts by Christopher Tahy
(see all)