Unknown Mortal Orchestra


Multi-Love
Jagjaguwar [2015]



Fire Note Says: UMO redefine what you thought you knew.
Album Review: If you would have told me this time last year that I'd be shaking my ass to a Unknown Mortal Orchestra album, I'd have called you crazy. Having sprung out of New Zealand in 2011 with their self-titled debut, Neilson and co. took overblown pop, stringy guitars, and a hazy indie prowess and created quite a debut. A couple years later UMO's II took sunny yet sarcastic shots at suicide, religion, and loneliness. II hit hard as its opening three tracks where some of the strongest conceived all year. But now, UMO looks to a changing musical future with follow up Multi-Love. Neilson has always enjoyed making music to do a bunch of drugs to, and Multi-Love shows this feature but only obscurely.
The fun thing about Multi-Love is the question around how I should actually classify it. Is it a funk record? Dance record? Rock record? Blink, and you could miss a lot of the strands that pepper Multi-Love. But, believe it or not while UMO's guitar-driven material was a huge draw for me, Multi-Love's sparse, honed showings are actually appreciated. Multi-Love is really a record defined by its' bass lines, synth runs, and even brass. Nielson produced, mixed, and engineered the entirety of Multi-Love, which allowed him to become even more of a fussy gear head. While the title track starts the album rolling with Neilson's familiar falsetto, the funk really kicks off on the second single, "I Can't Keep Checking My Phone." Bittersweet feelings of love are paired up with a classic stair step bass line that had my head bobbing up and down. "Extreme Wealth and Casual Cruelty" lovingly buzzes into the ears only to be broken up by a saxophone solo—it really works. What helped put a bow on the entire experience was the two ending tracks: "Necessary Evil" takes more brass and pairs it along with a chorus that just works, while "Puzzles" happens to be the most rocking and longest song on the album, clocking in at around seven minutes.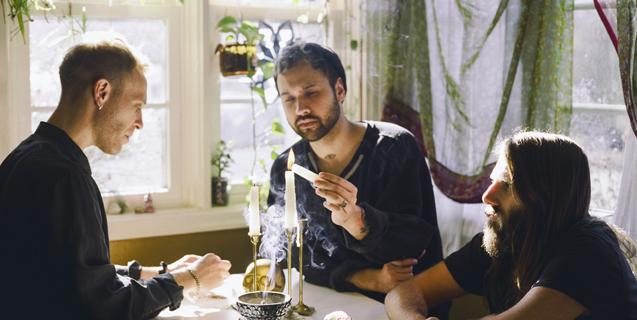 I kept a lot of Unknown Mortal Orchestra's Multi-Love details surface level. Not because of the fact that Multi-Love is an overwhelming record by any means, but because the ideas are surprising compared to past albums. To paraphrase Neilson, "It felt good to be rebelling against the typical view of what an artist is today, Building old synthesizers and bringing them back to life, creating sounds that aren't quite like anyone else's." I was really surprised how much I enjoyed Multi-Love. While I was skeptical it would hold up compared to the s/t and II, Multi-Love's sensibilities only got better with repeated listens, solidifying its status as a true grower.
Key Tracks: "Extreme Wealth and Casual Cruelty" / "Necessary Evil" / "Puzzles"
Artists With Similar Fire: Pond / Melody's Echo Chamber / Frank Zappa

Unknown Mortal Orchestra Website
Unknown Mortal Orchestra Facebook
Jagjaguwar
-Reviewed by Christopher Tahy

Latest posts by Christopher Tahy
(see all)