The Strokes


Future Present Past (EP)
Cult Records [2016]


Fire Note Says: Fututre Present Past engages and entertain long time Strokes fans.
Album Review: Probably the best thing to announce about this new four-song EP by The Strokes for their label, Cult Records, is that this suggests that the band is busily writing new music for another full-length release. It's been 3 years since Comedown Machine, which was their 5th album in about 15 years, so as it often seems with The Strokes, they're due.
While The Strokes have not had too many long hiatuses between albums (although there were five years between First Impressions of Earth – '06, and Angles – '11), they do tend to keep a pretty low profile as a band between releases and tours. They do tend to busy themselves with solo and side projects, fashion spreads and famous girlfriends, but it always feels like a good thing when the word goes out that they're returning to the studio.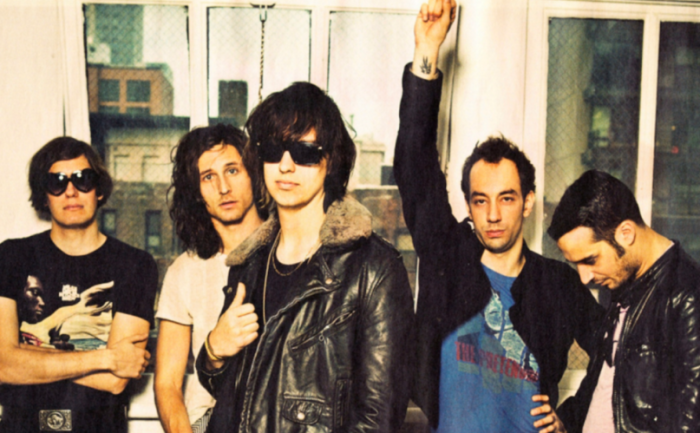 Of course, all the main attention here falls to the airplay single, "OBLIVIUS" (sic., it's their idea to go all caps), which is already doing very well on several rock radio charts. The best thing about this song is the kinetic energy in the guitar parts by Nick Valensi, who is always listed as lead guitarist, and Albert Hammond, Jr., who is consistently listed as the rhythm player. It all sounds like a fast double guitar solo chasing a quickly shifting melody up and down the stairs in an Escher drawing, but it could all be Valensi depending on studio or tech pedal trick, since they always make that distinction. But when we do reach the solo outright, Valensi more than shines and the band as a whole rocks, as vocalist Julian Casablancas adds his most enthusiastic howl. This is a winner, on the short list for "best single of the summer."
The two other new originals, "Drag Queen" and "Threat of Joy," feel more familiar, like many other songs we've heard before from The Strokes. Which, of course, is never a bad thing. The remix of "OBLIVIUS," by drummer Fab Moretti doesn't add a whole lot to the proceedings, until you get to the part with Valensi's guitar solo, which is not crisp, and clear, with little forced distortion or echo.
Fututre Present Past more than serves its obvious purpose, to engage and entertain long time Strokes fans, and assure them that the band is back at it… and about time.
Key Tracks: "OBLIVIUS"
Artists With Similar Fire: Velvet Underground / Lou Reed / Arctic Monkeys
The Strokes Website
The Strokes Facebook
Cult Records
– Reviewed by Brian Q. Newcomb
Latest posts by Brian Q. Newcomb
(see all)