The Shilohs


So Wild
Light Organ Records [2013]



Fire Note Says: The Shilohs grab ideas from all over the 60s rock scene, but So Wild never feels disjointed.
Album Review: Starting with the standard 60s rock playbook, The Shilohs dig a bit deeper on their debut album to offer listeners a feel-good slice of classic pop. Mining sounds from both sides of the pond, the band also injects some of the eclecticism of Elephant 6 bands like The Apples in Stereo or The Olivia Tremor Control, giving So Wild a diverse but fully formed feel. Pairing twanging guitars, music hall piano, and tasteful horns with solid songwriting and vocal harmonies, each of these twelve tracks has an earnest quality that gives them considerable charm, something that other 60s-influenced acts are often missing or imbue with too much irony.
The album opens with the short "This is Vancouver Music," an Eliot Smith-style Britpop piano ballad, followed up by the cheerful "Get Ready Now," with its pounding backbeat and tremolo guitars. Early highlight "Sister Rose" builds layer by layer from just lead vocal and bass, eventually developing into a breezy hybrid of sunshine- and power-pop. "Man of the Times" is a short but sweet rocker that sounds like late-60s Kinks with Jerry Lee Lewis pumping the piano, while the next track, "TV Action Jazz," features some interesting lyrics on our cultures love of reality TV over top of shifting tempos ("Zach and Jenny just got engaged / The hammer and the viper alive in the cage // I'm in love with a TV story / Channel clickin', time to pass / Seen it all, it don't get boring / TV action jazz").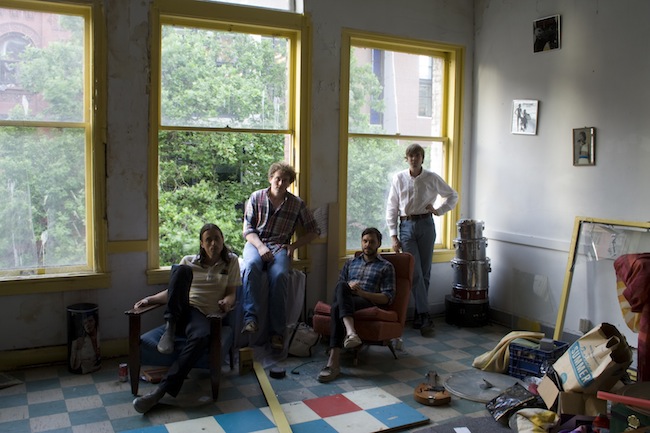 "LA" is another key track, a gentle guitar ballad that at first sounds like an outtake from the Velvet Underground's self-titled third album, but quickly moves into swinging folk-rock territory, with barrelhouse piano and slide guitar adding nice touches. "Sweet Valentine," meanwhile, is a throwback to Hard Day's Night-era Beatles and classic Beach Boys, though parts of the track—mainly the vocals and guitar arrangement—are reminiscent of sunshine pop savant Curt Boettcher's productions, sounding especially like his Millennium band mate Sandy Salisbury. "Airline Men" continues the 60s tone, its distorted riff and guitar solos calling to mind The Beatles' "Taxman," while "Over and Over" calms things down with its sleepy alt-country waltz. The album closes with "You Don't Call Me Darling Anymore," which sounds even more like the "quiet" version of the Velvet Underground than "LA," its hypnotic bass, light electric guitar strums and whispery vocals recalling "Candy Says" and "Pale Blue Eyes."
While So Wild doesn't do anything new or particularly surprising, it does combine elements of the classic rock canon in interesting and enjoyable ways. The Shilohs may not be the next Beatles (or even the next Apples in Stereo)—but you can tell the band had a good time making this record, and it shows. The twelve tracks here cover a wide range of influences but still sound like the product of a single band, and The Shilohs' solid songwriting and arranging skills make So Wild a perfect fit for any self-professed classic rock scholar.
Key Tracks: "Sister Rose", "Man of the Times", "You Don't Call Me Darling Anymore"
Artists With Similar Fire: The Kinks / "Phase 2" Velvet Underground / The Apples In Stereo
The Shilohs Website
The Shilohs Facebook
Light Organ Records
-Reviewed by Simon Workman

Latest posts by Simon Workman
(see all)