The Postal Service


Give Up (Deluxe 10th Anniversary Edition)
Sub Pop Records [2013]




Fire Note Says: Give Up from The Postal Service easily passes the 10 year test!
Album Review: Side projects are supposed to be something that keep artists busy when they are on a break from their main gig. They should be a creative outlet that separates the project from the established act then most likely fades away because there is real "band" work to be done and "real" albums to sell. Well nobody told that to Ben Gibbard (Death Cab For Cutie) and Angeleno Jimmy Tamborello (Dntel, Figurine) when 10 years ago their debut (and only) Postal Service album, Give Up, was released. What is funny is that at the time I don't think anyone considered Give Up to be an album which would stand the test of time. Sure critics and fans alike thought the record was good but good enough that it would be honored by a 10th Anniversary edition with 15 extra tracks of infectious electro-pop and potential greatness?
That is the perfect segue to bring us to the present day of 2013 and listen to this new massive reissue and repackaging of Give Up. I actually can say I was excited to break this record back out and listen with a new critical respect. The first thing that grabs my attention that I forgot is that Jenny Lewis (Rilo Kiley) sings backup vocals on most of these tracks. That small detail already makes Give Up better than I remember while first track "The District Sleeps Alone Tonight" still reigns supreme out of the player. This record had a new found tension for me that I thought was more evident today as Tamborello's production is so tight that it fights a bit with Gibbard's soft vocals. This may sound like a negative but it is the true dynamic that makes Give Up such a success. This see-saw action plays out through the entire record and is highlighted on the closer "Natural Anthem" which features an almost screeching electronic attack until Gibbard cuts through the wall of sound and delivers the lyrics. On other tracks the inclusion of Lewis acts as the well placed buffer in this consistent struggle. I almost guarantee that if I would have reviewed this record back in 2003 it would have received a lower rating as the album has aged well and its intricacies are now more appreciated and respected.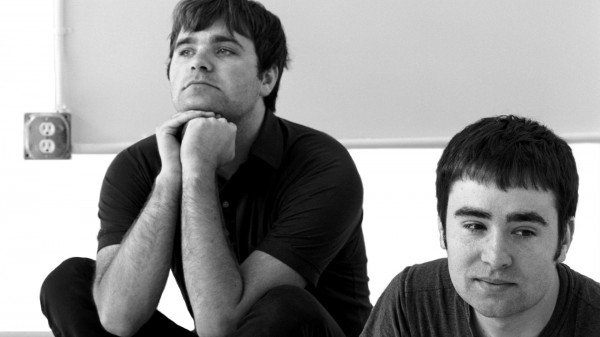 Like all good anniversary editions, Give Up comes with a bunch of bonus tracks, including two brand new songs, "A Tattered Line of String" and "Turn Around." Both new songs fit well into the overall picture and not only could have been worked into Give Up but would have fit nicely into a never seen sophomore effort. The rest of the tracks are smartly grouped as the B-sides from the "Such Great Heights" and "The District Sleeps Here Tonight" singles are here as well as three solid cover songs with the highlight still being Phil Collins' "Against All Odds" that originally was from the Wicker Park soundtrack in 2004. This collection also includes The Shins and Iron & Wine cover versions of the Postal Service's two big hits which just showcases how transferable these tracks really are.
The Postal Service made a record that was not supposed to be this good. It is not a perfect album but it still flows quite well 10 years after its release and does not sound 1 day old let alone 3650. It is an album that rivals both Gibbard and Tamborello's best work in their day jobs and has been and probably still will be used in the media because the tracks just have that emotion packed in behind them. That being said do you need this anniversary edition if you have been a fan? Yes – if you want the new songs and are a collector. If you already snagged all of these other tracks back in the day then it might be a tough call but I will say the remastering here soars. The vinyl package is also over the top great so I recommend splurging if you don't own a wax copy and listen to Give Up with a new perspective – you might be surprised how you feel afterwards!
Key Tracks: "The District Sleeps Alone Tonight", "A Tattered Line of String", "Against All Odds"
Artists With Similar Fire: Broken Bells / New Order / Headphones
The Postal Service Website
The Postal Service Facebook
Sub Pop Records
-Reviewed by Christopher Anthony

Latest posts by Christopher Anthony
(see all)