The Muffs


Whoop Dee Doo
Burger Records [2014]



Fire Note Says: The Muffs return with a walloping blast of 60's inspired rock n roll.
Album Review: "Sad Tomorrow" from The Muffs sophomore record, Blonder And Blonder (1995), is still one of my favorite songs from that era. I was always impressed with how tight but carefree the band played and that track just highlights their best qualities. Singer-songwriter Kim Shattuck has always had one of those instantly recognizable voices as her throttled throated delivery never disappoints. Go check out their "Kids In America" cover for just another example.
Fast-forward to the present and we now have Whoop Dee Doo representing The Muffs first record of new material in 10 years. It is not as if the band has been out of the spotlight as they have consistently toured and released the collection of singles and b-sides, Kaboodle, in 2011. The members have also stayed individually busy as Kim joined and departed the Pixies in 2013 while drummer Roy McDonald reunited with his former band Redd Kross for their excellent Researching The Blues album on Merge in 2012. All of that still does not make up for a full length so for me this was an anticipated release.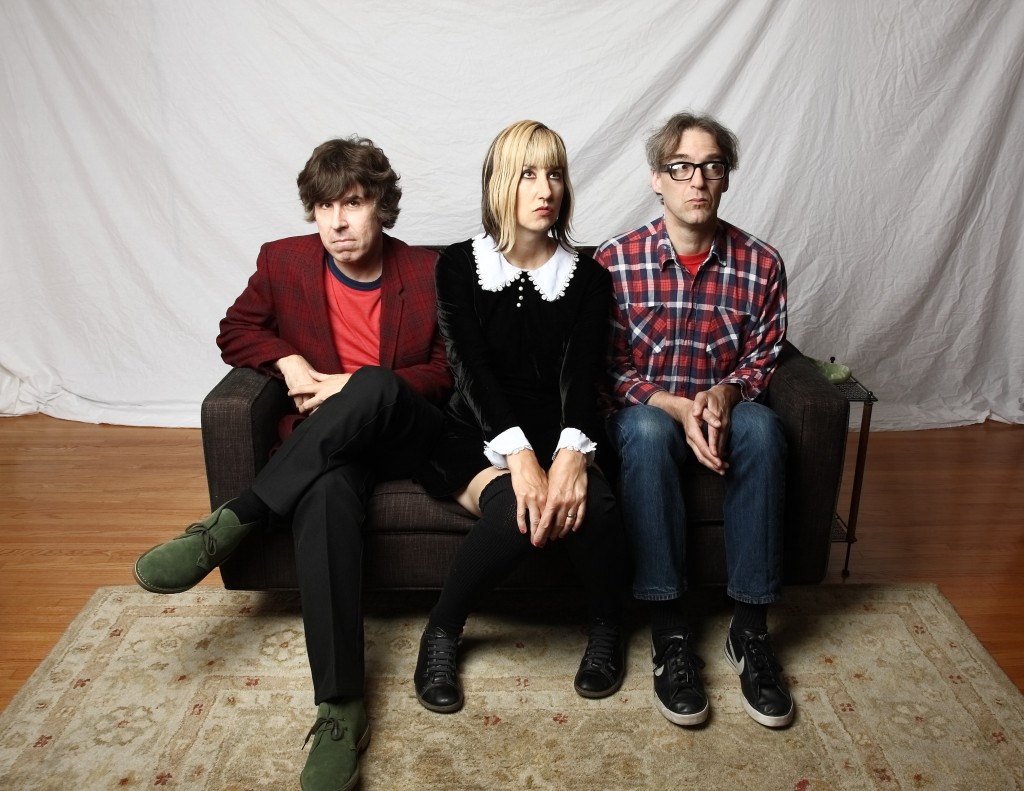 If you were around for The Muffs beginning back in the 90's then you should know what to expect here on Whoop Dee Doo – fast, snappy and sneering tracks that hit you as loud as Shattuck can deliver. If that is what you wanted then this record will not let you down. Opening song, "Weird Boy Next Door," has all of The Muffs key sharp musical components with plenty of Shattuck yowls as the song rolls through chorus and verse! The record continues in its upbeat fashion with more of the same but you can hear the veteran status in this band as they draw back on earlier 60's rock themes. "Cheezy" is one of those songs as Shattuck holds back her normal expression as she sings "because you're cheesier than you know" while the harmonica dances throughout the track. Then on "Take A Take A Me" you can almost hear the hand claps that should could easily be in the background as Kim playfully cranks out the vocals. The backing "la la las" on "Forget The Day" or the vocal swoops that support the chorus in "Up And Down Around" also bring to mind those four piece groups from the past that were part of the beat-garage scene.
Now you can stay in the past all you want but The Muffs bring those components forward to make Whoop Dee Doo one of their most engaging records. The songs are well thought out and represent a windows down type of alternative rock that still holds enough venom that any Muffs fan will love this album. Not sure the younger crowd will buy into Whoop Dee Doo but they should as The Muffs still have plenty to say and Shattuck can still deliver one of the best walloping vocals in the business today.
Key Tracks: "Weird Boy Next Door" / "Up And Down Around" / "Cheezy"
Artists With Similar Fire: The Breeders / The Kingsmen / Tweens

The Muffs Website
The Muffs Facebook
Burger Records
– Reviewed by Christopher Anthony

Latest posts by Christopher Anthony
(see all)