The Baptist Generals


Jackleg Devotional To The Heart
Sub Pop Records [2013]



Fire Note Says: The Baptist Generals follow up their No Silver/No Gold lp 10 years after the fact, and it is worth the wait!
Album Review: The term Jackleg has several meanings (I know because I looked it up), but it's most common usage is to describe something amateurish, or nonprofessional. It also implies a certain amount of dishonesty or unscrupulousness. A devotional is typically used to describe something as religious or sacred. So to call your album Jackleg Devotional to the Heart, conjures up all sorts of imagery for me. I have pondered this title numerous times while listening to the record, and it fits. I can't necessarily explain how, but you can do that on your own while listening to the record.
It has been 10 years since The Baptist Generals released the excellent No Silver/No Gold album, and I think for the most part people had completely forgotten all about them. While No Silver/No Gold was rough around the edges, Jackleg Devotional to the Heart shows a giant leap forward sonically. From the opening instrumental "Machine En Prolepsis" a definite them is set. These are going to be mostly acoustic songs that rock in spots, yet remain firmly grounded in roots music. The production is sharp, and the music is played with feeling. For an album that took so long to record, it doesn't sound like it was labored over at all. It is very fresh and spontaneous. On "Dog That Bit You" Chris Flemmons' vocals sounds like a cross between Roky Erickson, Joe Walsh and Brian Wilson. Musically, the band sounds like a looser and more rocking version of The Decemberists. Elsewhere, on "Clitorpus Christi" Flemmons sings with a passion that can barely be contained on record. You believe it when he sings "How is it that people get proud? I cannot get out of this public house where the soap gets stolen. Every single day's another day I get to smell myself. Gets in the way to have to smell myself." I'm not sure exactly what it is he is saying here, but it sounds great, I know that much. "3 Bromides" has the "junkyard blues" feel that Tom Waits has been employing on record for the past 20 years or so. The vocals have a recited poetry feel to them, that give the song the feeling of some sort of psychedelic sermon.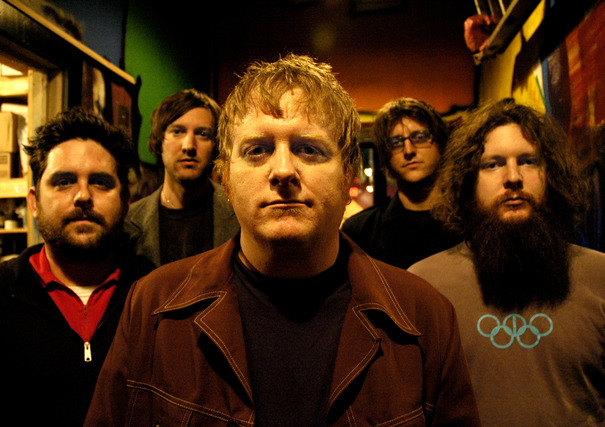 Jackleg Devotional to the Heart, is the kind of record that sticks with you. Give it a few listens to sink in, and you will find yourself coming back to it over and over again. The Baptist Generals are currently on tour with The Mountain Goats, and I can't think of a better current act for them to be out on the road with. This is a show that can't be missed if it's in your neck of the woods. Welcome back guys, we missed you!
Key Tracks: "Dog That Bit You", "3 Bromides", "Clitorpus Christi"
Artists With Similar Fire: The Decemberists / Neutral Milk Hotel / Bonnie Prince Billy
The Baptist Generals Website
The Baptist Generals Facebook
Sub Pop Records
-Reviewed by Kevin Poindexter

Latest posts by Kevin Poindexter
(see all)