The Babies


Our House On The Hill
Woodsist Records [2012]



Fire Note Says: No "Sophomore Slump" for The Babies on Our House on the Hill!
Album Review: Although originally conceived as a side project between Woods member Kevin Morby and Cassie Ramones from Vivian Girls, one thing is clear from the first song on The Babies 2nd album, Our House on the Hill, this doesn't sound like a side project. The Babies really benefited from touring together in 2011, they are a full-fledged band, and a damn good one, I might add! The album is a step up from their first album in every way possible. The production is better, the songwriting is sharper, and the performances are crisper.
I particularly enjoy the songs where the two trade vocals, particularly "Slow Walkin", which immediately reminded me of two great male/female fronted bands from the past, X and The Rezillos. The song is upbeat, but still has a casual appeal that is both endearing and inviting.  "Moonlight Mile" is a punchy two and a half minute number, with backing harmonies to die for, and a nice horn line. The song is so saturated with sound it's hard to pick out anyone instrument, it all mashes together to form one colossal wall of music, rushing forward at breakneck speed.  "See The Country" is a nice mid-tempo number where Cassie takes the lead with her angelic voice, and Morby provides a nice supportive backing.  "That Boy" is a gorgeous and sad song ruminating on the death of what I assume is a good friend, yet, it feels cathartic as well, and ends on a hopeful note.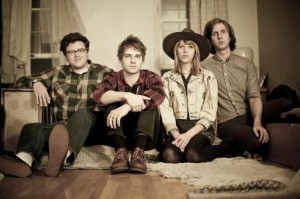 This record has it all, it's happy, sad, mournful and yet eternally optimistic. Their two voices blend together so well, it's as if they were meant to sing songs together. This is one of the real sleepers of 2012, and is one that I will be playing for a while! Our House on the Hill is so good that I find part of myself wishing they would leave their regular band to concentrate on The Babies full time!  Make sure to check them out if they play out live in your area, I'm betting it would be a real good time, because this record definitely is!
Key Tracks: "That Boy", "Slow Walkin", "Moonlight Mile"
Artists With Similar Fire: X / The Rezillos / The Pixies
Artist Highlight feature @ The Fire Note
The Babies Website
The Babies Facebook
Woodist Records
-Reviewed by Dex Poindexter

Latest posts by Kevin Poindexter
(see all)