The Afghan Whigs: Bogarts, Cincinnati, Ohio – Sept. 28, 2017
Any time the Afghan Whigs return to play Cincinnati, it's going to have the feel of a homecoming, and it certainly did last Thursday night at Bogart's. For lead singer and primary songwriter, Greg Dulli, born and raised in Hamilton, attended U of C, and even worked for a couple years at Bogart's doing production and security in the 80's, this was a return to his roots, and he paused mid-set to make the obligatory shout out to his Mom & Dad, as well as The Curley's, the family of the Whigs' other remaining original member, bassist John Curley.
Dulli, who didn't talk all that much during the band's 80-minute set, had also acknowledged the passing of guitarist Dave Rosser, who died back in June of colon cancer. Dulli said Rosser had played beside him for years, back in the Twilight Singers, and since the Afghan Whigs reunited in 2014, but he didn't mention this to bring down the crowd. While he was missed, Dulli assured the packed house, the band wanted to celebrate his life and love of music every time they played. And that it was, but given the dark, heavy music on the band's latest releases it started out as a "black celebration," to borrow a phrase from Depeche Mode.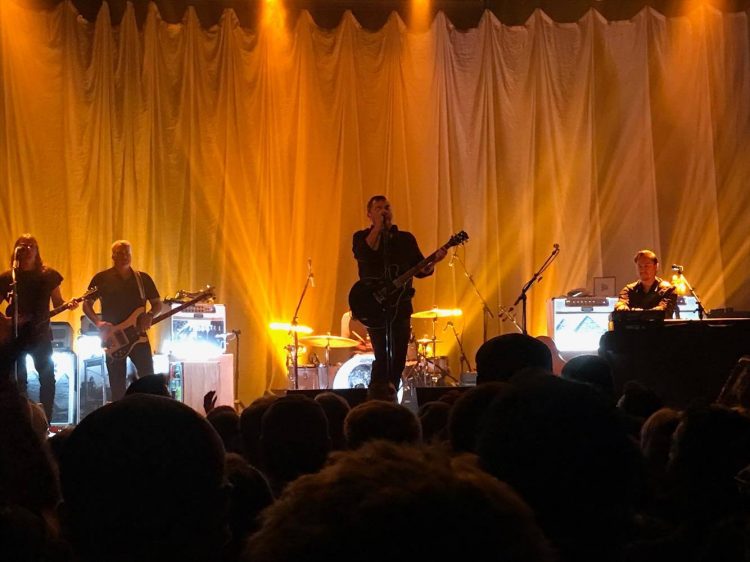 Dulli entered alone to sing "Birdland" over the orchestrated soundtrack from the band's latest album, In Spades. The band entered as the brief piece reached its conclusion, and launched into "Arabian Heights," just as it appears on the album, followed by "Matamoros," "Debonair" and "Light As a Feather," starting each one before the previous song had ended in silence. From the start the band hit it hard and heavy, with Dulli on guitar, together with lead player John Skibic, and multi-instrumentalist Rick G. Nelson also on guitar for the most part, although he played violin on "Debonair," and as the night wore on moved skillfully from guitar to violin, cello, electric piano and synthesizer.
Clearly, Dulli feels really strongly about that "no flash" rule for phones and cameras that was displayed around the venue, and came with a warning by a roadie prior to the show not to "be that guy" who ruins the show for everybody. And, of course, "that guy" was not paying attention to or ignored the warning, so Dulli called out someone near the back of the room right in the middle of "Arabian Heights," and then when they finally paused he explained that the lights hurt his eyes and made it hard to see, and produced lousy photos. Now, he said, "let's play something sexy," leading the band into "Oriole," followed by "Toy Automatic," both from the new one. After commenting that the next one was a favorite of Rosser's, "Can Rova," to which he segued into "Last Goodbye," a song by Jeff Buckley that served as a fitting tribute to the missing guitarist's memory.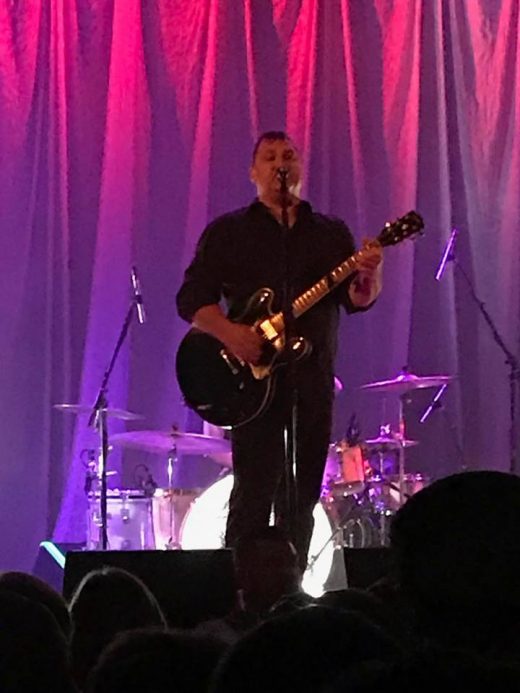 That was followed by "Royal Cream," which evolved through a drum break into "I Am Fire." The band charged on, through "My Enemy" and "Teenage Wristband," which is a Twilight Singers song, but nobody was complaining, as the audience was singing along more and more as they dipped back in to older, more familiar material.
Moving to the piano, Dulli, once he'd greeted all his family and hometown friends in attendance, shared the story how his original composition for "Going to Town" evolved into the version heard on the 1996 release, Black Love, explaining that he'd been listening to a lot of Prince, and stumbled across a bag of mushrooms. Then he offered up his telling of the story of Bonnie & Clyde as he'd originally envisioned it, a lovely, melodic ballad.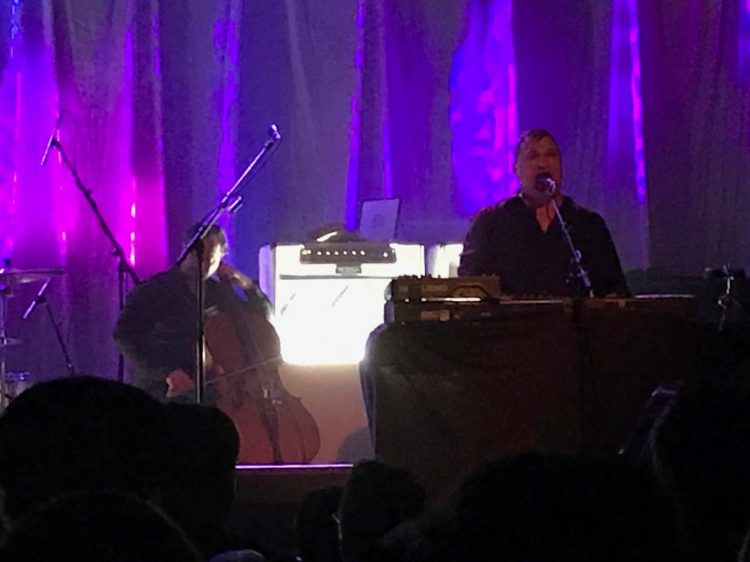 Still on piano, he led the band into "Demon in Profile" from the new one, only he turned over the lead vocal duties to Har Mar Superstar, the opening band who had changed into a black "Har Mar" t-shirt and exotic orange print tights… which strangely enough worked with the song's threatening and ominous tone. Dulli followed with a cover of The Beatles' "Dear Prudence," one of a variety of covers he'd been doing on this tour (about 6 years back, I caught the Twilight Singers at a club in Minneapolis and he slid into a version of Adele's "Rolling in the Deep" right in the middle of one of his songs and it was pure rock show genius.).
As the band shifted gears, and Dulli moved back to center stage and guitar, they closed out the set proper with some hard rocking fan favorites, but while they were as heavy and intense as earlier songs, the funk of "John the Baptist," with it's "dance, little sister" command, and "Somethin' Hot," both drenching with sexuality from the 1998 release, 1965. Then closing the show proper, with "Into the Floor," the 7th song from their latest album, which evolved into a slowed down cover of Don Henley's solo classic, "Boys of Summer," that emphasized the haunting end of the season tone of the lyrics.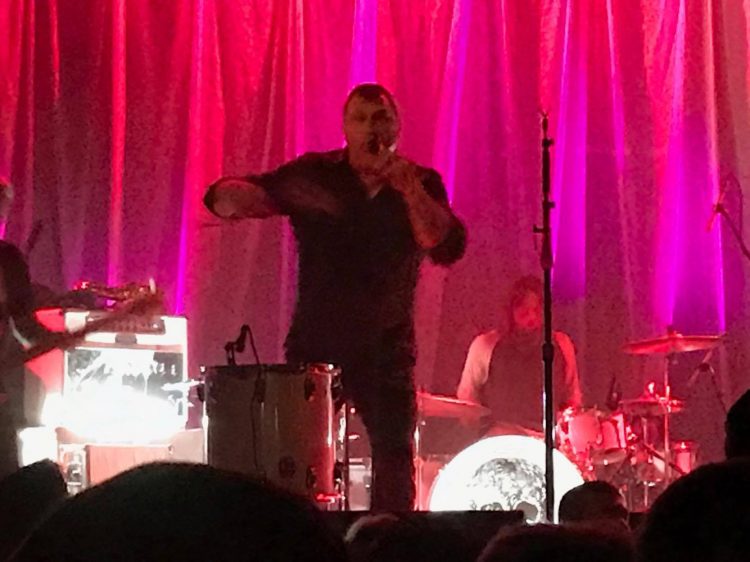 (Something a little strange happened as Dulli tried to exit the stage walking behind the drummer as the band built to the end of the song, he appeared to fall to the floor, raising a question if he was okay physically. When the band finished their end of show jam, Dulli stood us behind drummer Patrick Keeler at the same time that he did, and exited. We noticed a road crew guy came out with towels and appeared to wipe up a spill behind Keeler's kit, which explains Dulli's fall. As they returned to encore, Dulli was shaking his right hand, which may have been hurt, but otherwise there was no other mention, of what could have been an embarrassing scene.)
They encored strongly on "Parked Outside," with plenty of audience support as folk shouted along with Dulli's full voiced delivery. That was followed by "Summer's Kiss," and then a bit of Bonnie Raitt's "I Can't Make You Love Me," which segued smoothly into "Faded," which ended the night, the band again jamming after Dulli left the stage, this time walking out in front of the drums. Afghan Whigs' reunion a few years ago, returning to recording and the road, is a real triumph for heavy indie rock/alternative bands of a certain age. And they draw a specific audience (I saw 3 other people wearing the same Queens of the Stone Age t-shirt that I had on), but interestingly enough a wide age range from early 20's to social security recipients. That staying power, and commitment to edgy creativity is a tribute to this music's viability, even as market forces work against the selling of albums, etc. Thursday night's show, warm with home town buzz, was indeed a celebration of music's ability to enliven the human experience and create community, even as it confronts the darker aspects of our character. Same are quick to say "rock is dead," but they weren't at Bogart's on Thursday night.
By Brian Q. Newcomb
Latest posts by Brian Q. Newcomb
(see all)