The Afghan Whigs


In Spades
Sub Pop Records [2017]


Fire Note Says: The Afghan Whigs' Greg Dulli returns with a more compositionally rich and textured musical approach that echoes classical musical themes that run in tension with the demanding drums, guitars and Dulli's compelling vocal howl.
Album Review: At a time when alternative music had progressed from post-punk into grunge (the late 80's and early 90s), Cincinnati native Greg Dulli got together with John Curley, and Rick McCollum and quickly evolved from a garage band to a dark, heavy art rock band that was obviously obsessed with R&B and soul music. Dulli once described Afghan Whigs music as "a cross between The Band, The Temptations and Neil Young playing with Crazy Horse." While the band never had a hit record or got significant airplay on mainstream rock or pop radio, their creative approach on albums like Gentlemen (1993) and 1965 (1998), earned the band a solid following, while influencing artists as varied as Interpol, The Hold Steady, My Chemical Romance and Jimmy Eat World, before breaking up in 2001.
Dulli, who served as the lead vocalist in the band for the soundtrack for the movie Backbeat (1994), about the early years in the Beatles' career where they were playing nightclubs in Hamburg, Germany doing long sets of covers each night, with fellow musicians Dave Grohl, Thurston Moore (Sonic Youth), Dave Pirner (Soul Asylum) and Mike Mills (R.E.M.). After Afghan Whigs, Dulli created another band, The Twilight Singers, which recorded 5 albums, and recorded an album and an EP with Mark Lanegan of Screaming Trees as the duo The Gutter Twins. In 2013, the band reformed to play some shows, and in 2014 Dulli and Curley recorded their first album in 16 years, Do to the Beast, with guitarist McCollum replaced by Dave Rosser and John Skibic, and Raconterurs drummer Patrick Keeler along for the ride.
And now, after three short years, Dulli & Co. are back with another intense collection of dark, aggressive genre-busting rock from one of great underappreciated bands of our time. And there's no doubt, Dulli is running the show; he writes the words and music, he sings and he produces, these compositionally lush, sometimes dense and masterfully orchestrated pieces. While Dulli's not creating what we often think as classically influenced music, artists like ELP, Genesis and Yes that purposefully cobbled 17th and 18th century orchestrations into the prog rock of the 70's, yet there's a thoroughly modern construction at work in his inclusion of a horn and string section along side the traditional rock band instrumentation.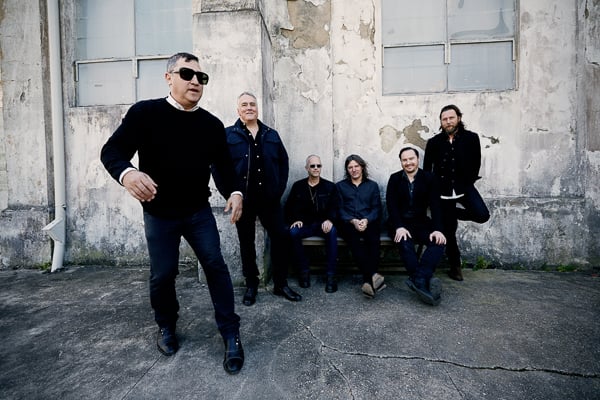 And of course, Afghan Whigs rock; most potently on the propulsive, drum led "Copernicus," but also in the surging guitars that drive the beat in "Arabian Heights." While many of the band's early albums emphasized R&B, funk and soul, In Spades only hints at that connection on the intro to "Light as a Feather," where a dance floor rhythm sets the tone before a bolder rock beat takes the song in a heavier direction. Dulli's use of horns especially on the album's first single, "Demon in Profile," and mixed with strings over the electric piano in "The Spell," suggest a more compositionally rich and textured musical approach that seems to echo classical musical themes that run in tension with the demanding drums, guitars and Dulli's compelling vocal howl.
The result is a rich, and compelling mix of sounds to match the equally dark and emotionally dense images in Dulli's lyrics, which continue to suggest the brutal, often painful realities of existence, with portraits of sexual desire, possession, and a wrestling with humanities darkest fears. There is a strong poetic sensibility at work in Dulli's phrasing and language, but it's as if we're hearing the verbal ramblings of one who's woken from a terrifying dream, yet one they don't want to be woken up from.
Take this line from "I Got Lost:" "Call out or fall out/You're all out for me/Jump in the fire/And find you're redeemed/State your intent/Or get back on your knees/All for me/All for me." The song is clearly about betrayal and deception ("Maybe you're two faced/Or maybe three or four") but the lyrics embrace the paradox of repulsion and desire, without revealing a resolution or conclusion, which seems to be the point of all the imagery of pagan rituals and theatrical falsehoods that show up in the videos for "Oriole" and "Demon in Profile."
There are too many pop bands, commercial rock and country artists who are succumbing to lowest common denominators, it's both exciting and encouraging to have an artful rocker of Dulli's pedigree continue to stretch musical boundaries with his singular artistic vision. More of this, please!
Key Tracks: "Arabian Nights" / "Demon in Profile" / "Light as a Feather"
Artists With Similar Fire: Queens of the Stone Age / Nick Cave & the Bad Seeds / Dinosaur Jr.

The Afghan Whigs Website
The Afghan Whigs Facebook
Sub Pop Records
– Reviewed by Brian Q. Newcomb
Latest posts by Brian Q. Newcomb
(see all)