Terra Terra Terra


The Space We Create
Round Kid Records [2013]



Fire Note Says: Terra Terra Terra creates a radio friendly rock album on their sophomore LP.
Album Review: Terra Terra Terra is a three-piece band from Lakeland, FL. Members include Loren Taylor (vocals, guitar), Matthew Lowry (bass), and Micah Roth (drums). The Space We Create is the band's sophomore LP, following 2009's Mind Like a Mind, Soul Like a Child. Terra Terra Terra counts several bands among their influences such as Coldplay, Kings of Leon, Manchester Orchestra, and Lovedrug. Taylor and Lowry are the principal songwriters and attempt to create arena rock anthems with intimate lyrics. Whether they succeed on the latter is up to you as the listener – as to the former there is no denying their ability to craft a rock song.
The Space We Create opens with one of three interludes that are found on the album, "Without Forgiveness We're Savages." This track grabbed my attention from the outset with its soft opening and promising lyrics – it sounded like something I would have danced to at the end of a middle school dance. I'm not intending any sarcasm with that statement – Terra Terra Terra has offered an album here that many could deride because of its earnestness. I found it refreshing and applaud them for creating something as accessible as they have. Other standout tracks include "Burn" and "Better Than Screaming." These two songs induced some nostalgia for 90s rock like Dishwalla or even Stone Temple Pilots. Fall Out Boy also came to mind as I listened to the album in its entirety. The construction of The Space We Create is interesting with the interludes and keeps things fresh and interesting. There is a steady mix of rockers and ballads which also contributes to the album's sense of building momentum until the end.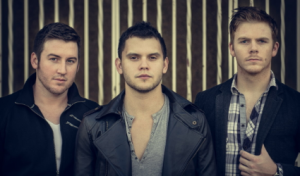 I was surprised by my reaction to The Space We Create. My inner hipster did not want to enjoy the album as much as I did. There is no denying that Terra Terra Terra has created a lot of songs that have great hooks, which are ultimately arena-ready. I wouldn't be surprised to hear some of these songs on the radio or in a movie or TV show, given their quality. My only concern with the album is that it doesn't break any new ground, but what it does it does really well. Listening to The Space We Create took me back to a time when I could listen to music without trying to be first or avant garde – I could enjoy what I heard based on the merits of the music alone. It was a refreshing experience.
Key Tracks: "Without Forgiveness We're Savages", "Burn", "Better Than Screaming"
Artists With Similar Fire: Fall Out Boy / Manchester Orchestra / Lovedrug
Terra Terra Terra Website
Terra Terra Terra Facebook
Round Kid Records
-Reviewed by Matthew Heiner

Latest posts by Matthew Heiner
(see all)