Tedeschi Trucks Band


Let Me Get By
Concord Music Group [2016]

Fire Note Says: Susan Tedeschi and Derek Trucks have brought a level of purpose to their third record.
Album Review: On their third collaborative studio album, singer Susan Tedeschi, guitarist Derek Trucks and company have brought a level of intentionality and purpose to their wide-ranging musical endeavor that on "Let Me Get On By" you can begin to feel the fulfillment of all the promise heard on 2011's "Revelator." Evolving from their Soul Stew Revival, an early combination of their two bands around a collection of R&B, soul and blues standards, TTB has been focused on creating original music that, while rooted in the traditions of their inspirations, brings a fresh, creative outlook to these time-honored sounds.
With Trucks' commitment to playing guitars with the Allman Brothers Band ending in late 2014 (Derek's uncle Butch has been drumming with the band since the early 70's), and their new recording studio, Swamp Raga, in place behind their Jacksonville, Fla. home, everything was in place to take their music to the next level. Throughout "Let Me Get On By," the band rises exponentially to meet the challenge.
Of course, they're not reinventing the wheel. You hear the same gospel, soul, and blues influences that sparked the band's work on the first two albums, but everything from the vocal harmonies to the horn arrangements seems to have been edged up a notch. While you can still hear a touch of Bonnie Raitt in Tedeschi's vocals, she's matured and developed a strong presence that owes little to any other singer. Trucks, while named for Eric Clapton's band with Duane Allman (Derek & the Dominoes), has benefitted as a slide guitar player from his years as a journeyman in the ABB, standing beside Warren Haynes trying to fill the large shoes left empty by the early death of Duane Allman. Together the two bring a musical confidence and virtuosity to this project that shines through all ten tracks.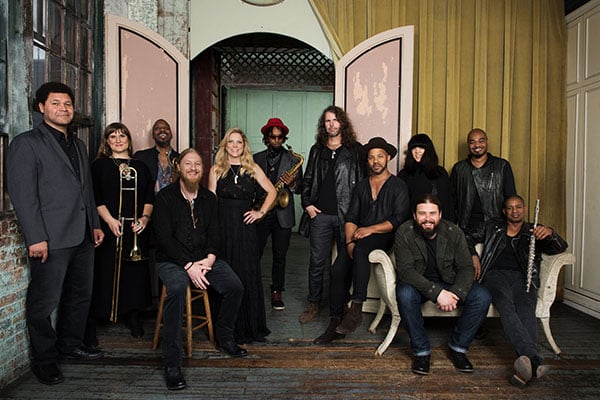 Grown to a full dozen players, including background singers and a horn section, TTB is at the very least part tribute to early pioneers like Delaney & Bonnie and Friends. And, while they still leave plenty of space for improvisation on these long songs (half of them here are 6 min. and over), with so many players sharing a confined space Trucks, working as solo producer for the first time, has shaped the arrangements to maximize clarity and focus. "Let Me Get By" never sounds cluttered, and the songs consistently build to emotional climaxes, never leaving the listener unclear about where things are headed.
Singer Mike Mattison steps forward to sing lead on a couple songs, the disc's longest track "Crying Over You/Swamp Raga," the second part a quiet instrumental emphasizing flute and acoustic 12 string guitar, and "Right On Time." That last one gives the horn section a chance to explore a bit of jazz New Orleans' style, as they do again on the disc's last song "In Every Heart." Occasionally the band leans into a funky groove ("Don't Know What it Means"), but they feel a lot more at home on soulful, slow-rockers like "Anyhow" and "Laugh About It" that build as Susan Tedeschi's voice rises over the gospel chorus of background singers, and then Derek Truck's guitar insinuates into the mix surging, soaring pulling the spirited arrangement to the heights of artistic human expression.
Key Tracks: "Anyhow" / "Laugh About It" / "I Want More"
Artists With Similar Fire: Allman Bros. Band / Bonnie Raitt / Delaney & Bonnie and Friends
Tedeschi Trucks Band Website
Tedeschi Trucks Band Facebook
Concord Music Group
– Reviewed by Brian Q. Newcomb
Latest posts by Brian Q. Newcomb
(see all)