T. Hardy Morris


Audition Tapes
Dangerbird Records [2013]



Fire Note Says: Audition Tapes is that rare record that has an emotional impact on the listener.
Album Review: Throw folk, roots, psych, punk, and country music all in the proverbial blender, and I would imagine you would come up with a concoction that sounds something like Audition Tapes, the excellent new album from T. Hardy Morris. Morris writes songs that are downtrodden, weary, and completely gorgeous. There is a familiarity in its honesty, a comfort. This is an album that tells it like it is, and because of that the listener can view it as a comfortable old blanket, or a defiant "suck it" to whatever or whomever has driven you to the edge.
"He was not so lucky, born into a poverty of his own creation" is the devastating opening line to the album opener, "Lucky". "Remind me that we not getting any younger" is the line that best describes the two people in this song, as it details the downhill slide of their relationship. "Disaster Proof" picks up the tempo, and show cases the sarcasm is Morris' songwriting. "Ok Corral" sounds like it came straight out of Laurel Canyon in the early 70's. It is pleasing alt country, extremely catchy, yet still dark. It might not be the best song on the record (it's definitely in the upper tier) but it is definitely the song that has the most potential to bring Morris to a wider audience. "Beauty Rest" is downright haunting. The music is sparse, just guitar and some pedal steel with some strings coming in as the song builds, with the whole thing covered in reverb. It sounds like it was recorded in a big old abandoned house. The title track, "Audition Tapes" is my favorite song on the record. His voice soars on this one; it's tough to pinpoint exactly what he's auditioning for in the song, friendship, love, both? It doesn't really matter, as the song perfectly conveys the desperate emotion of wanting something that you just can't quite have, like you're auditioning for a part that you never really had a real shot at landing.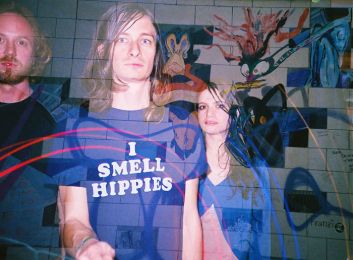 T. Hardy Morris isn't exactly a newcomer, he was a member of Dead Confederates and Diamond Rugs, but Audition Tapes has certainly proven to be a magnificent solo debut. Rarely do you see a first solo record deliver this kind of emotional impact, but then again T. Hardy Morris isn't your average solo artist. Audition Tapes shows that he is clearly a cut above the norm.
Key Tracks: "OK Corral", "Audition Tapes", "Beauty Rest"
Artists With Similar Fire: Elliott Smith / Sparklehorse / My Morning Jacket
T. Hardy Morris Website
T. Hardy Morris Facebook
Dangerbird Records
-Reviewed by Kevin Poindexter

Latest posts by Kevin Poindexter
(see all)