Sweatshop Boys


The Great Depression
Dirt Cult Records [2013]




Fire Note Says: Impressive punk-pop-rock debut from Israel band Sweatshop Boys.
Album Review: About 11 days ago I sent an unofficial review of Sweatshop Boys debut album, The Great Depression, to our friends at Dirt Cult Records. This is what it said: "This record rocks!" Now that I am on the official review, I stand by those words and if I could get away with it, my review would now say "This record really rocks!"
All kidding aside, the Sweatshop Boys hail from Israel – yes Israel – and their debut record is a full on power-pop-punk album that is tight, somewhat dark and stunningly melodic. The 13 songs here play to a whopping 22 minutes long, so you already know this is all killer and no filler. The band's strength comes from their layered vocals as these really quick songs all have perfect moments to sing along with and become instantly memorable. The other interesting thing about Sweatshop Boys is that many times their songs move away from the more standard punk pop of a Screeching Weasel into a more indie rock formation like The Libertines; complete with lead vocals that are similar to their singer Pete Doherty. This style makes the slower "Hemaphrodite" give an entire new depth to Sweatshop Boys that comes complete with an organ in the background and an ending guitar solo. This balance is impressive as many of Sweatshop Boys songs barely cross the 2 minute mark but emerge with a much larger presence.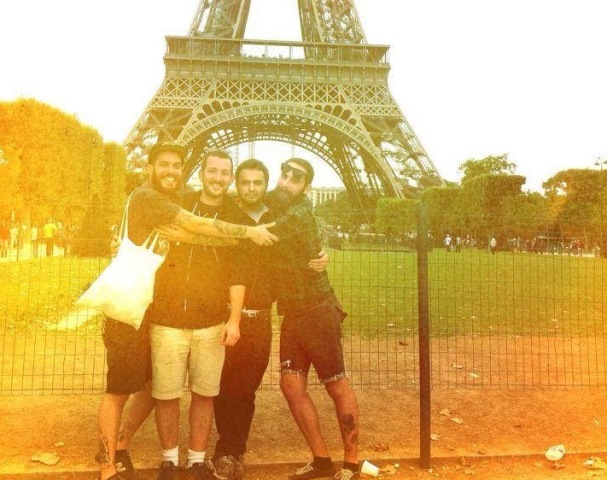 Not only is the music catchy but with songs about noodles, hopelessness, weed, social anxiety and bromance – can you really ask for much more? Sweatshop Boys give you lines like "I got a song stuck in my head, it's called I wish that I was dead" that appears in "The Not-So-Great Depression" or I am sure at some point every band member in all countries asks "why waste all my time in a band? This is what I really want to do. Go Solo!" contained of course in a 53 second romp. With this style of punk rock still idling in the shadows, it is nice to hear such an invigorating record that incorporates different facets to the mix that include a little organ on several songs, big soaring anthems and a surprising mirrored female backing vocal on "Aya Doesn't Like The Garlic Bros." It is this type of creativeness that makes listening to music so much fun!
Currently, The Great Depression is being released in conjunction with 5 record labels worldwide. I don't think that means world domination for the Sweatshop Boys but it does boost the profile of this under the radar band from Israel. This album is easily my favorite punk record of this type that I have heard this year. I also hope the group does not lose one ounce of this adrenaline moving forward. So do yourself a favor and spend some time with the Sweatshop Boys – I guarantee your car singing and air guitar will drastically improve!
Key Tracks: "Crazy Eyes", "The Not-So-Great Depression", "Solo"
Artists With Similar Fire: Screeching Weasel / The Libertines / Steve Adamyk Band

Sweatshop Boys Website
Sweatshop Boys Facebook
Dirt Cult Records
– Reviewed by Christopher Anthony

Latest posts by Christopher Anthony
(see all)