Supersuckers


Get The Hell
Acetate Records [2014]



Fire Note Says: If you love rowdy, dirty, raunchy, drunk, gritty, punk infused rock and roll, well, Get The Hell might be your next party album.
Album Review: The Supersuckers have been bringing their spirited, rowdy and shit kicking brand of Rock and Roll for over 25 years now, and their new album, Get The Hell, shows that Eddie Spaghetti and the rest of the band won't be stopping anytime soon. There is still plenty of piss and vinegar left in "The Greatest Rock-N-Roll Band in the World" and with Blag Dahlia from The Dwarves on board to help mix and produce the new album, The Supersuckers have a bigger and thicker sound on Get The Hell than they have in a long time.
Get The Hell is full tilt rock from the word go, fans of Spaghetti's album from 2013, The Value of Nothing (count me as one!) will find none of that album's acoustic raggedness on this album. You're going to hear loud guitars, cracking drums, loud shout along choruses and heck even a few surprising cover songs to boot. Where The Value of Nothing was certainly a drinking album, Get The Hell is more of a party album, this is an album to lift the spirits and hang out with your friends to. We all may be losers, but damn if we aren't loveable losers who know how to have a good time. After a brief "Intro," "Get The Hell" kicks the door in and gets the party started. This is a ragged adrenaline pumping anthem that really gets the "Party Hard" feeling of Andrew WK right. This song will make you flip over tables and smash beer bottles on the floor. "Pushin' Thru" is about as cow punk as the guys get on this album, this is Social Distortion with an even worse attitude, but better hooks. "Never Let Me Down Again" is a cover of a Depeche Mode song, yep Depeche Mode. "What the hell?" you ask, well, I'll tell you, in the hands of the Supersuckers, this thing is a rock anthem of the highest order. Raise your hand if you can tell me what album that song is on? Anyone? No? ok, it was on Music For The Masses, and their live 101 set, which I played the crap out of freshman year in college.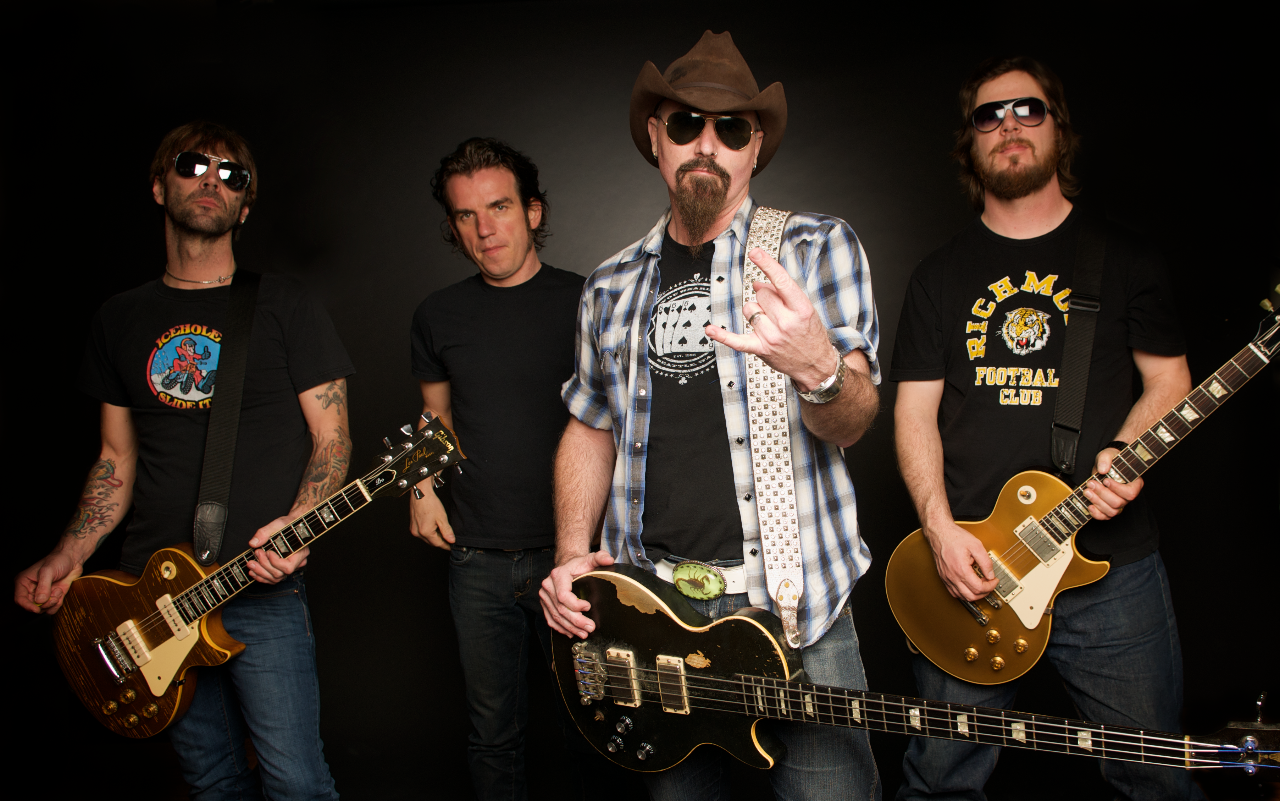 This is not the best album ever, in fact, it's not the best album I have heard today, but it is a super fun record that I enjoy every single time I play it, and that counts for a lot with me. If you are a Supersuckers fan, you already have this, but if you are not, and you like rowdy, dirty, raunchy, drunk, gritty, punk infused rock and roll, well, Get The Hell might be your next party album.
Key Tracks: "Get The Hell", "Pushin' Thru", "Never Let Me Down Again"
Artists With Similar Fire: Social Distortion / Reverend Horton Heat / Steve Earle

Supersuckers Website
Supersuckers Facebook
Acetate Records
– Reviewed by Kevin Poindexter

Latest posts by Kevin Poindexter
(see all)