Steve Taylor & The Perfect Foil


Goliath
Splint Entertainment [2014]



Fire Note Says: Goliath is a loud, fast, rock & roll record.
Album Review: It's easy to get excited about a bright band of youngsters who appear on the scene with a fresh burst of creativity and energy (see The Strypes), or celebrate a band that's been working for over 20 years in ways that stretch and keep their sound vital and relevant (see Wilco), but this is something altogether different. This is what happens when four older, seasoned players grow bored with their day-time gigs (movie director, abstract painter in oil, church worship band songwriter, studio musician and string arranger for Kings of Leon at Lollapalooza), and wander out to the garage committed to making a big noise… again… just like the old days.
Steve Taylor and his Perfect Foil aim for maximum sonic impact, harnessing the larger-than-life growling guitars of Jimmy Abegg and capturing the dense punchy groove of John Mark Painter's bass-lines. All this works best when drummer Peter Furler keeps the pace fast and tense on tracks like "Only a Ride" and "Rubberneck," which hits just the right aggressive tone to match Taylor's high, nasally whine/shout vocals. The result is a fun run through the post-punk power-pop audio library for some great sounds craftily combined for an altogether original feel.
Of course, if you Google these guy's name you will figure out pretty quickly that they've all worked in and around the alternative Christian music world. Jimmy A played guitar with Sacramento break-out artists Vector and Charlie Peacock, before eventually joining the Ragamuffin Band with Rich Mullins. Oh, and Abegg is the painter. As for Painter, he made some critically acclaimed albums in a band with his wife, Fleming & John, composed music for movies, like "Hoodwinked," and "conducted" the strings with Kings of Leon in Chicago this summer. Drummer Furler is best known for his work with Aussie punk turns pop band The Newsboys, whose best musical work was shaped by producer Steve Taylor.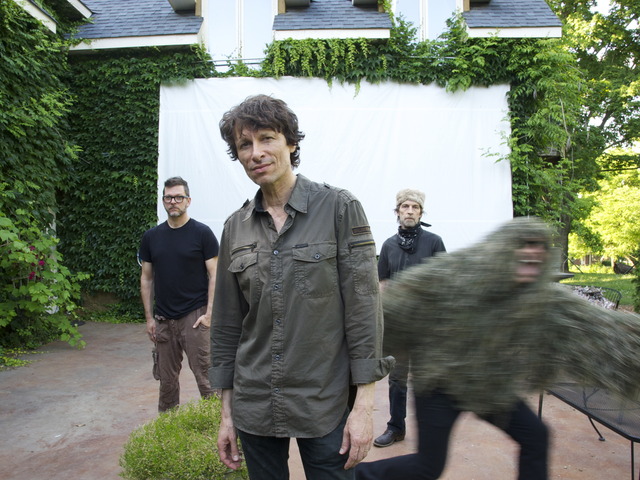 As for the Perfect Foil's namesake, Taylor was a singer/songwriter best remembered for satirical takes on the Christian music subculture and life in general, attacking the racism of Bob Jones University with "We Don't Need No Colour Code" and superstar idol worship in "Jim Morrison's Grave." Taylor had a critically acclaimed release with the band Chagall Guevara in the early 90's, before returning to his solo career with his strongest solo album, Squint. In recent decades he's focused on directing films in the vein of "Blue Like Jazz"(2012).
But you can't keep old rockers quiet forever. Maybe they spent one too many Saturday afternoons "Standing in Line" at the grocery store, maybe they wrote one too many saccharin praise choruses. But something drove them back into the studio, and as Taylor sings in "Moonshot," "I'm building a rocket," and this one makes a good bit of noise at take off.
Goliath's title track starts with a crunchy sultry groove on bass & drums, and features horns as they build to the "bigger they come the harder they fall" chorus. The disc opens with a guitar hook that's a siren's squeal, as the band speeds through "Only a Ride" to ask, "why am I bleeding?" The best songs feel front-loaded on this one, but near the end, "Happy Go Lazy" takes on that inclination to lean back and take the easy way out with suitable humor and, as on the rest of the disc, no small dose of snark.
Goliath is a loud, fast, rock & roll record made by music veterans who seem eager to break out of the mold and make some fun, angry noise. Maybe it's a mid-life crisis. If so, we could use a few more like this.
Key Tracks: "Rubberneck" / "Only A Ride" / "Goliath"
Artists With Similar Fire: The Hives / The White Stripes / The 77's
Steve Taylor & The Perfect Foil Facebook
Splint Entertainment
– Reviewed Brian Q. Newcomb
Latest posts by Brian Q. Newcomb
(see all)