sElf


Super Fake Nice
El Camino Media [2014]



Fire Note Says: Matt Mahaffey's sElf returns to form with new EP.
Album Review: What was so 90's is now new again. Matt Mahaffey, aka sElf, is another artist from that era that makes a return to the music scene here with the six song EP Super Fake Nice. You may remember sElf from their 1995 debut Subliminal Plastic Motives and their slight alt hit "Cannon" or the big major label push of single "Meg Ryan" from 1999's Breakfast With Girls. Not ringing a bell? Probably not unless you were around that time but if you are familiar with sElf then you probably are familiar with one of my favorite records from Mahaffey in 2000's Gizmodery. Here Mahaffey recorded the entire album on toy instruments. "Trunk Fulla Amps" is still one of my favorite tracks.
Even though sElf has not been around much since 2005's album Porno, Mint, & Grime, Mahaffey has been playing with Beck on stage since 2005 and producing for other artists all along including Pink, Liz Phair, Keith Urban, The Sounds, Lupe Fiacsco, HelloGoodbye and Tenacious D. He also started working on music for film and television too. He wrote and composed "Stay Home" for the Motion Picture Shrek and contributed music to CSI Miami, Entourage and Weeds among others.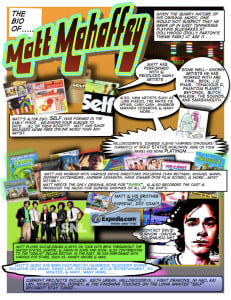 Well, Super Fake Nice is a long way from using toy instruments as it is a full spectrum studio produced recording. This direction works for Super Fake Nice in several places but also has several places where it negatively impacts the overall experience. For me, there is always a fine line when you up the gloss ante and sElf has always masterfully walked this tightrope. The first two tracks, "Runaway" and "Gonna Rock" fall into the too much category which gets Super Fake Nice off to an unstable start. The good news is that "Looks and Money" is a sharp just over 2 minute knee slapper that brings back sElf's stylistic groove and catchy wordplay as Mahaffey questions "tell me how you write off your rock n roll lifestyle" while the chorus jams up and down. This laid back but direct approach finishes off Super Fake Nice in strong fashion. The last two tracks especially drive this point home and highlight what sElf do best. The big indie pop on "Subconscious Life" explodes outward complete with handclap moments while the closer "Splitting Atoms" may be the best track on the EP. The off key keyboard playing with the electronic beats and big sonic guitar sound combine perfectly with Mahaffey's spiraling vocals for a solid finish.
If you were a fan of sElf's earlier work I think you will enjoy Super Fake Nice because it does rekindle their best aspects. I wish the front end of this EP was a bit less produced because I definitely think it would have enhanced the overall experience of Super Fake Nice. This still may be just my ear as some fans might be into it and there is no denying that the overall song structures are well thought out and executed. That won't sway my final rating here but there is enough positive things going on that I hope we see a full length later this year as Mahaffey's sElf shows that there is still plenty left in the tank.
Key Tracks: "Looks And Money" / "Subconscious Life" / "Splitting Atoms"
Artists With Similar Fire: ON / Beck / Brendan Benson
sElf Website
sElf Facebook
El Camino Media
– Reviewed by Christopher Anthony

Latest posts by Christopher Anthony
(see all)