Rhiannon Giddens


Tomorrow Is My Turn
Nonesuch Records [2015]




Fire Note Says: Carolina Chocolate Drop Giddens spreads her wings on new solo record.
Album Review: Rhiannon Giddens is not a name new to us, she was part of the critically lauded roots/string & jug band, the Carolina Chocolate Drops, and then signed on as part of the New Basement Tapes project, which put her in collaborations with Elvis Costello, Marcus Mumford, Jim James (My Morning Jacket), and Taylor Goldsmith (Dawes) around the attempt to make songs out of some abandoned Bob Dylan lyrics dating back to the era of his Basement Tapes recordings with the Band. Here on her solo debut, Giddens seeks to define her voice through the music of her roots, folk, gospel, blues, and country songs, many made popular by female vocalists from previous generations, and creates a masterful work, a lesson in interpreting time honored songs for a new time and cultural setting.
Produced by T Bone Burnett (New Basement Tapes, "O Brother, Where Art Thou?", Robert Plant and Allison Krauss' Raising Sand, and a list of credits that include many of the greatest names in roots rock, like B.B. King, Robert Randolph, Los Lobos, Costello and Peter Case), Giddens finds just the right musical backgrounds and settings to serve her vocal intentions. Classically trained at Oberlin, yet grounded in the soul music of her geography, she finds a balanced approach, engaging the breadth and depth of music, and many of the women who paved the way for her as an artist.
Central to the work is the title track, a song about resistance and resilience in the face of challenge and oppression. It is a lushly orchestrated ballad, that can't hide the anger and commitment to "make life worth living," that is at the heart of Giddens' presentation. The song has been previously associated with Nina Simone, who along with other vocal heroines have shown Giddens the path forward.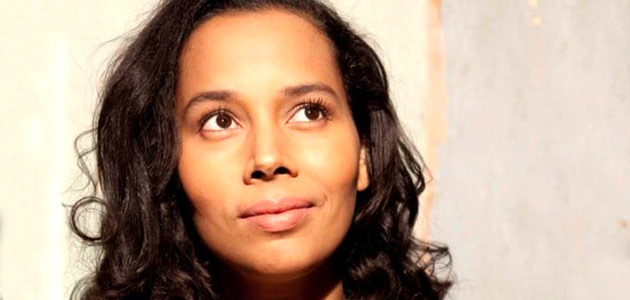 She echoes the strong delivery of Odetta on "Waterboy," the field work song that has been arranged for serious classical listeners, to best allow Giddens to explore the full range of her impressive vocal instrument against the strong percussive rhythms of the track. On the other side of the musical spectrum is "Up Above My Head," a guitar driven Spiritual stomper made popular by Sister Rosetta Tharp, which gives Giddens cause to loosen up and wail a bit.
She manages to throw some respect toward two country megastars, Patsy Cline in her reworking of "She's Got You," and Dolly Parton with a rendition of "Don't Let It Trouble Your Mind." She honors the spirit of the originals, but manages to reclaim them for herself; the first at blues of lost love, the second an expression of independence and recovery of self. Elsewhere she celebrates a traditional African American spiritual and her own love of the banjo in "Round About the Mountain," with its testimony that "The Lord loves a sinner," and "Shake Sugaree" and "Black Is the Color" are little down home traditional numbers that predate modern R&B, but emphasize both rhythm and blues.
With her one set closing original Rhiannon Giddens sings of the struggle and growth that came with bringing this album to fruition in L.A., or as she says "Angel City." A lovely violin melody runs the length of the piece, where she sings of being "found where I was lost, I am closer to free." In time, we will want to hear more of Giddens' original compositions, but as this debut demonstrates, that will involve a rich and knowledgeable acknowledgment of those who have gone before.
Key Tracks: "Waterboy" / "Up Above My Head" / "Round About the Mountain"
Artists With Similar Fire: Joan Baez / Odetta / Nina Simone
Rhiannon Giddens Website
Rhiannon Giddens Facebook
Nonesuch Records
– Reviewed by Brian Q. Newcomb
Latest posts by Brian Q. Newcomb
(see all)