Pixies


Head Carrier
Pixiesmusic/PIAS [2016]


Fire Note Says: Pixies rock with a sense of history, but also look ahead.
Album Review: Pixies, an alt/rock quartet originating out of Boston, is one of those bands whose shadow of influence has been far greater than their actual sales. Like the Velvet Underground, it's been said that not very many people bought Pixies' albums, but everyone who bought a Pixies album started a band. With major artists like Nirvana, Radiohead, Weezer and such eager to sing the band's praises and honor their influence, a new release from the Pixies is worth our collective attention.
That the Pixies are as infamous for the competitive relationship between lead singer/songwriter Black Francis and long-time bassist Kim Deal, as they are known for their seminal mix of punk/pop and surf guitar riffs, their use of soft/loud & slow/fast in some of the verse/choruses of their most memorable tracks, and unrepentant mix of vocal screams and guitar distortion in their hookiest pop songs, explains why we only have 6 official studio albums from this often contentious crew.
Formed by Francis, who played guitar and sang, and Deal, who reportedly responded to an ad for a bass player influenced by "Husker Du and Peter Paul & Mary," they were joined by guitarist Joey Santiago and drummer David Lovering. The band produced four albums in four years between 1988 and 1991, but their commercial and critical standout was Doolittle, best known for Modern Rock radio hits like "Here Comes Your Man" and "Monkey Gone to Heaven." They went on the road opening some dates on U2's Zoo TV tour in 1992, and broke up sometime that next year.
Deal reconnected with her band The Breeders and released their big hit, Last Splash ('93). Francis took the name Frank Black and released nearly 20 albums across as many years, some as Frank Black & The Catholics, sometimes with Santiago playing guitar. In the mid-2000's, Pixies reformed and for nearly a decade toured around their much-loved early albums, including a 20th anniversary of Doolittle in 2009.
By 2013, Deal had departed again, touring with The Breeders on the 20th anniversary of Last Splash. She was replaced in Pixies briefly by Kim Shattuck of The Muffs, but she too was replace shortly by Paz Lenchantin, who has played in A Perfect Circle with Tool vocalist Maynard Keenan, and in Zwan with Smashing Pumpkins vocalist Billy Corgan. Throughout 2013 and '14, Pixies recorded three EP length releases, which were combined as the album, Indie Cindy.
Given that reputation and back-story, it's almost impossible to come upon new music by Pixies without high expectations, perhaps unfairly high. But, escaping the hype, and listening to Head Carrier back to back with Doolittle or Trompe le Monde, its pretty clear that the new music, while not breaking new ground, certainly sits well alongside songs that have been burned into ones psyche over two decades of listening.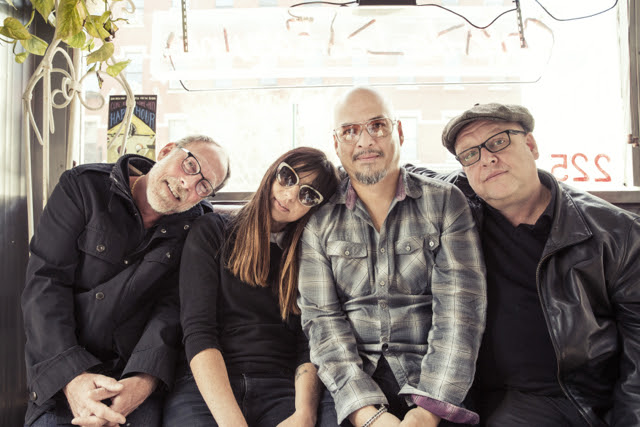 Early on Pixies reestablish their musical breadth. The opening title track—another proof of Black Francis' strange fascination with violent religious stories, recounts the tale of St. Denis, Bishop of Paris, who was decapitated and reportedly picked up his head and carried his head for 10 km, preaching a sermon the entire way—starts with screaming guitar feedback before settling in to a blustery rock rhythm. "Classic Masher" is pure pop perfection, in the school of "Here Comes Your Man," about a guy who doesn't take no for an answer. "Baal's Back" is a thrasher that's a close to metal as you can get and still be "alternative," echoing the melody of AC/DC's "Hells Bells," with Francis in full scream vocal form. And those aren't the disc's singles.
The first single was "Um Chagga Lagga," which sounds like a companion to the 1991 Ministry single "Jesus Built My Hotrod," which was sung by Butthole Surfer vocalist Gibby Haynes. This perhaps raises the question of who influenced who, which came first and all that… but at this point, more than 28 years in, it's not about which came first, but are they both good? And they are.
"Talent," another pop leaning number is the second single (although, aside from satellite radio channels, do folk still follow radio hits?), and a catchy one at that, but on the whole Head Carrier is a solid effort from front to back. Interestingly enough, the two closing songs appear to also be about St. Denis, "Plaster of Paris" and "All the Saints." Do you know of any other rock songs that include a lyrical reference to a "cephalophore"?
Fittingly, the remaining Pixies and new bassist/background vocalist Lenchantin maintain the consistent musical prowess of early efforts, Lenchantin joining Francis on harmony vocals that fill Deal's role. Francis writes everything here, with a co-writing credit for Lenchantin on "All I Think About Now," where she takes the lead vocal in a song that appears to offer a thank you message to Kim Deal.
All said, Head Carrier finds Pixies returning in strong form, rocking with a sense of history, but also forward looking. This is an album that they could have recorded all the way back in the mid-90s, but it's just as potent, and relevant, all these years later. It's really great to still have them around.
Key Tracks: "Classic Masher" / "Um Chagga Lagga" / "Head Carrier"
Artists With Similar Fire: Nirvana / Weezer / Blur

Pixies Website
Pixies Facebook
PIAS Recordings
– Reviewed by Brian Q. Newcomb
Latest posts by Brian Q. Newcomb
(see all)