Paul McCartney


New
Hear Music [2013]


Fire Note Says: Paul McCartney returns with one of his strongest modern-era albums.
Album Review: Paul McCartney has been has been on quite a winning streak lately. However you feel about his recent standards album (the cheekily-titled Kisses on the Bottom), his recent records of original songs—under his own name or "The Fireman"—represent a remarkably strong body of work for an artist that's been around as long as he has. They may not be Beatles-quality, but to expect one member to be able to recreate that magic would be asking too much, not to mention a snub of the others' talents. But this is still Paul McCartney we're talking about—so how good is the appropriately named New?
Let's put it this way: if you're a fan of ANYTHING Sir Paul has done in the last decade and a half or so, you'll want to pick up New. Working with four different producers including Mark Ronson and Giles Martin (son of legendary Beatles producer George), the album's sound does subtly shift here and there, but in a way that adds variety instead of being distracting. New's diversity is actually one of its greatest strengths—for this listener at least, Paul is at his best when he either (A) goes experimental or (B) just tries to write good pop songs the way he knows how and not in a "modern" style. And these are the two dominant sounds on New: whether it's the Beatlesque pop of the title track or the abstract lyrical imagery and subtle electronics on "Alligator," for the most part New finds Paul in a creative mood, trying out new things and writing catchy songs.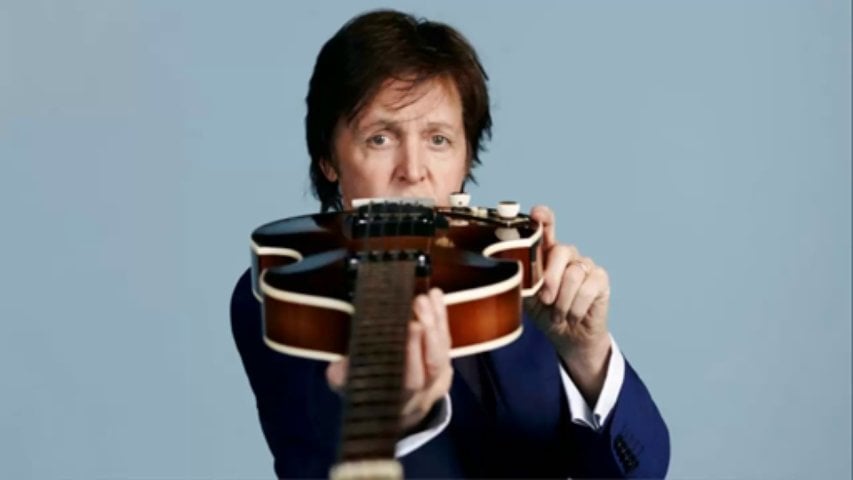 Not that there aren't a few missteps. Opener "Save Us" is slick enough, to be sure, but the Paul Epworth-produced track seems like it's trying too hard—distorted synths and handclaps make for a track that sounds like it might be right at home on 1985's Press to Play, and not in a good way. It's not terrible, but after the initial novelty wears off, it sticks out as one of the album's weaker moments. Penultimate track "Looking at Her" has one of the album's best melodies, but is similarly downgraded by its awkward electronic accompaniment and jittery percussion. Thankfully, though, such moments are not the norm and even these tracks have enough charm to make hitting the skip button more trouble than it's worth.
The high points, meanwhile, are probably some of the strongest tracks Paul has written since at least 2005's Chaos & Creation in the Backyard. The aforementioned "Alligator" is a trip, and "On My Way to Work" is a classic McCartney character study, following a typical guy on his typical route to work against a dramatic, classic-rock backing with sparkling guitars and cinematic orchestra swells. Second single "Queenie Eye" is a quirky pop song that combines the best of Paul's gift for melody with his offbeat sense of experimentation. And it wouldn't be a Paul McCartney album without at least one nod to the Beatles, which comes in the form of "Early Days," a gorgeous acoustic ballad that chronicles the boys' pre-fame years in Liverpool.
New may not be Sgt. Pepper, but it is a remarkably listenable collection of new songs from one of the masterminds behind that landmark album. Longtime Paul fans know that the man still "has it," but if it's been a while since you've given him a chance, you could do much worse than give New a try—at the very least, it'll have you reaching for your Beatles albums, and since when has that been a bad thing?
Key Tracks: "New," "Alligator," "Queenie Eye"
Artists With Similar Fire: The Beatles / Wings / Brian Wilson
Paul McCartney Website
Paul McCartney Facebook
Hear Music
-Reviewed by Simon Workman

Latest posts by Simon Workman
(see all)