Neil & Liam Finn


Lightsleeper
Inertia Music/[PIAS] [2018]


Fire Note Says: Neil Finn, best known for work in Crowded House, Split Enz before it, and most recently as a touring member of Fleetwood Mac, keeps it in the family, recording with his son Liam to create a dreamy soundscape that honors the ties that bind.
Album Review: On the warm and lovely Lightsleeper, father and son Neil & Liam Finn collaborate in a dreamy song cycle that celebrates the family connections and the ties that bind our lives to one another.
Neil Finn, of course, has had a remarkable career that continues to evolve. The 60 year old New Zealand native joined his brother Tim's new-wave band, Split Enz, where he ended up sharing songwriting ("One Step Ahead" and "History Never Repeats") and front-man roles. From there, Neil started the successful pop/rock trio Crowded House ("Don't Dream It's Over" and "Weather With You"), which Tim eventually joined briefly as well, and the two went on to record two albums as The Finn Brothers ('95 and '04). Alongside his two successful bands, and the occasional collaborations in and out of them with his brother Tim, Neil Finn has managed to record 8 solo albums as well, including last year's "Out of Silence," recorded live in the studio, with the singer/songwriter on piano supported by a full orchestra (https://thefirenote.com/2017/10/19/neil-finn-out-of-silence-album-review/). And, suggesting the opening of yet another chapter, we learned that Neil Finn is touring with Fleetwood Mac singing the parts of Lindsey Buckingham, with former Heartbreaker Mike Campbell covering the lead guitar parts.
Liam Finn comes by his musical interests naturally, forming his first band Betchadupa in his late teens, before pursuing a solo career around three solo albums that led to tours opening for Wilco, Black Keys and Eddie Vedder. Liam joined his father on stage, touring with a reunited Crowded House in '07, and in 2015 they toured together dividing the set list 50/50 between their two separate catalogs, and that same year Neil wrote and performed "Island of Peace" for Liam's wedding to Janina Percival in the Greek Isles.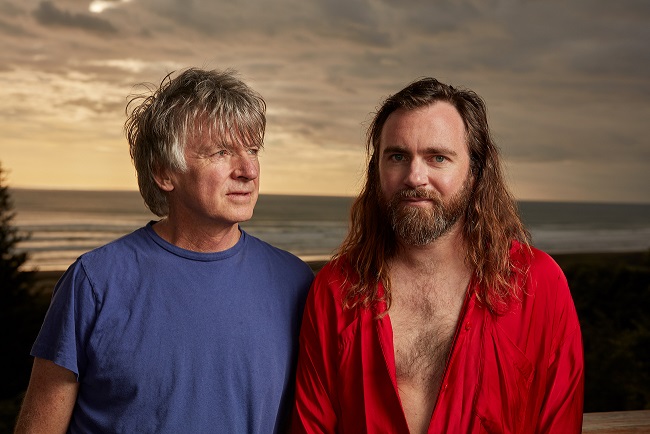 That song, with a certain cinematic drama etched out in an ELO/Beatlesque choir singing "Let love begin/Everybody hold on/Together," opens this record, with the rest of the songs rising out of a true collaboration between the two songwriters. There's a warm, trippy feel that runs through this song cycle, like a dreamy soundscape for a movie that plays in your head perhaps on a tour bus, like the Greek bouzoukis that show up half way through the album for a brief solo, no doubt recalling the wedding's reception.
A laid back quality flows through the light funk of "Where's My Room," (the first questions musicians ask when they step off the tour bus at the hotel), which unfolds across 7 minutes with several musical themes interspersed. The mid-section including a melodic pop that acknowledges the human condition that "all our lives we've been looking for love," but then the song segues into a fun orchestra paying tribute to R&B and soul music. Recorded primarily in Neil's Auckland studio, they keep it a family affair, with Liam's brother playing drums on seven of the tracks, Mick Fleetwood shows up on three, and Sharon Finn, Neil's wife, Liam's mom, plays bass on a couple. And there are several breakout places where Neil's piano playing shines, like in "Listen," a lovely ballad about relational communication, and in songs "Hiding Place" and "We Know What it Means."
And that family relational theme plays out throughout these songs, whether it's "Anger Plays a Part," acknowledging that even the closest relationships will have to cope with disagreements, while "We Know What It Means" focuses on a parent's love for a growing child. "We never laughed so hard, rolling on the kitchen floor" captures a moment in a snapshot, before suggesting, "we know what it means to love," perhaps the big acknowledgement of Lightsleeper. The set closes with a lullaby of sorts, "Hold Her Close," with an elder giving parental advice to a younger one; this intimate sense of connection runs through the whole recording, like a movie about a family who've learned to hold each other close. It's the kind of warm dreamy music you put on to help a child fall asleep, or to wake up and bring perspective to a new day. The sentiments are made all the more special by the artful musical collaboration of Liam and Neil Finn, whose blended talents and voices provide an abundance of riches.
Key Tracks: "We Know What it Means" / "Anger Plays A Part" / "Back To Life"
Artists With Similar Fire: Crowded House / Split Enz / John Lennon
Neil & Liam Finn Website
Neil & Liam Finn Facebook
Inertia Music
[PIAS]
– Reviewed by Brian Q. Newcomb
Latest posts by Brian Q. Newcomb
(see all)