Mourn


Mourn
Captured Tracks [2015]



Fire Note Says: Don't let the age of Mourn fool you.
Album Review: What if I asked you to tell my why you like new music? What would you say? Does a record need to meet a certain critic criteria to be liked such as Pitchfork's Best New Music or Headphone Approved here? I hope you said no and instead filled in a bunch of hungry adjectives because the debut record from Barcelona-based foursome Mourn is a prime example of what makes new music so exhilarating.
Mourn has not released the best debut nor the best record of 2015 but its 24 minute running time breaths youthful vigor, armor proof confidence and an energy that can only be created from the bond of a young band. Mourn is comprised of Jazz Rodríguez Bueno (18), Carla Pérez Vas (18), Antonio Postius (18) and Leia Rodríguez Bueno (15), so where you might think this is some ill attempt at recreating their parents records like the punk found from the Ramones (a band they idolize) or riot grrrl action such as Sleater-Kinney, you will be greatly surprised that this group has only replicated their rock n roll presence.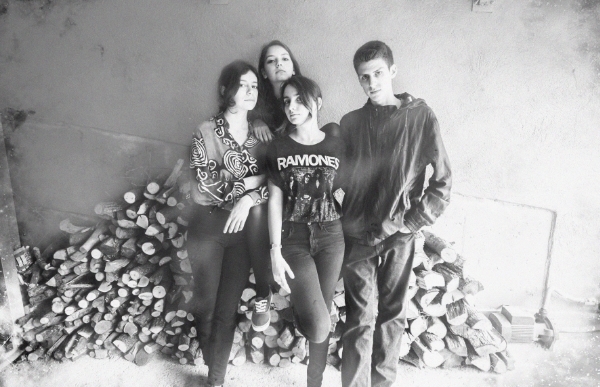 The very first track here is genius as "Your Brain Is Made Of Candy" starts with a polite and pleasant strum before it builds up and lurches out with venom. The track ends with the following short burst from singer Jazz as her PJ Harvey like vocals snarly quip "I will eat your brain / sweet, so goddamn sweet / Relax, it won't hurt… / and then I'll start with your heart!" These are the type of punches that Mourn pull throughout the entire record and sound well-seasoned beyond their young years, which is one of the most impressive pieces about this band. They don't try to be sassy or smart but take their known experiences and put them into song. On "Jack," the song kicks off with "You think you're awesome / I say you're boring / You called me a baby / I just say fuck you." I will also note that the "fuck" is backed up with a slightly delayed vocal from Carla to just make sure the point is clear. It is the shortest song on the album at 1:20 but it is a prime example that Mourn are not just trying to make a quick buck. They are here to impress and rock out.
Like I said before, Mourn has not released something that is going to turn your music world upside down but it is a really good album. Clearly, based on age alone the group has spectacular room for growth, which is exciting because I can only imagine how the band might transform. Go back to those first Sleater-Kinney records and think about how raw and explosive they were. Good albums but now neither of them would be in my top 5 form the group. Mourn's debut LP was recorded live in the studio over two days which works for the group right now as well as the bonus last cut "Boys Are Cunts," but after this launch party the bar and expectations will only be higher for Mourn. The good news based on this record – they will be up for the task!
Key Tracks: "Your Brain Is Made Of Candy" / "Otitis" / "Jack"
Artists With Similar Fire: PJ Harvey / Sleater-Kinney / Speedy Ortiz

Mourn Facebook
Captured Tracks
– Reviewed by Christopher Anthony

Latest posts by Christopher Anthony
(see all)