Mind Spiders


Inhumanistic
Dirtnap Records [2013]



Fire Note Says: Mind Spiders return with a new wave driven record that should make Devo and Gary Numan proud.
Album Review: How many times does an album's title, cover and first track prelude give you true insight on the record you are about to hear? Not that often really. Well, on the Mind Spiders third LP, Inhumanistic, it truly happens as this sci-fi garage attack stands tall with a full synthesizer assault, plenty of robotic chords and a blast into the future of what music will sound like in 2033 – maybe!
Being that Inhumanistic is the Mind Spiders third album in three years, you expect that band leader and producer Mark Ryan is out to keep things fresh. The album features a streamlined lineup this outing of Ryan on vox/guitar/synth, Mike Throneberry on drums, Daniel Fried on bass, and Peter Salisbury on synthesizers. This moves away from the two drummer approach on last year's Meltdown. Some fans will like the shift while I guarantee others thought they hit gold with Meltdown's sonic thump.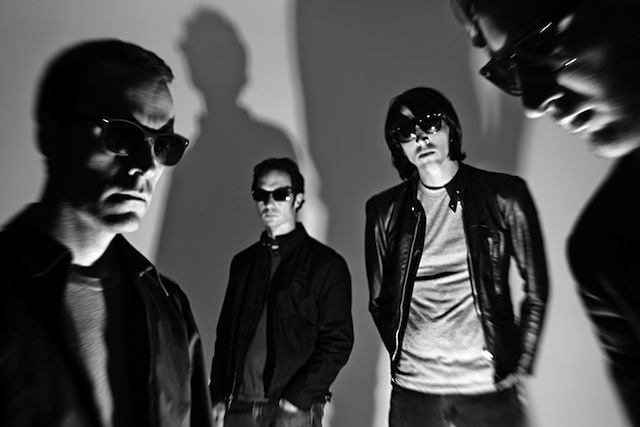 Inhumanistic relies on the synthesizers for its impact instrument this time out and the Mind Spiders don't disappoint. Songs like "The Steady," "Suicide," "Oblivion," and "City Stuff" are driven by the synth which the Mind Spiders handle well. Their punk folds into the tracks as they have perfected the Devo bounce and sci-fi work of Man or Astro-Man?. Even on the ballad "City Stuff," the buzzing synthesizer helps ease the song along. The band still makes more of an impact here when their garage/punk blood takes over and finds the group combining all of their energy into the edgiest new wave you can find out there today.
At the end of a three album three year run, Inhumanistic gives you yet another look at the ever changing Mind Spiders. It is a record that turns down a different new wave street with its synthesizers, which surely will find a new following. I think fans need to peel several layers of this album back and spin it multiple times before making any snap decisions. I say this because the Mind Spiders garage spirit emerges more than you might think and when it does – you not only respect the direction Ryan went here but you dig it. The quick riffing guitar battling the new wave backdrop of "You Are Mine" is worth the price of admission because it just showcases how tight this group really is. For me, Inhumanistic does not surpass Meltdown but it is a record that grew on me after several spins and is really different in a good way. We can only wait and see what the Mind Spiders tackle next but I will totally keep them on my radar as this band always has the potential to release a classic!
Key Tracks: "They Lie", "You Are Mine", "Make Make Make Make"
Artists With Similar Fire: Man Or Astro-man? / Devo / Gary Numan

Mind Spiders Facebook
Dirtnap Records
– Reviewed by Christopher Anthony

Latest posts by Christopher Anthony
(see all)