Mastodon


Once More 'Round The Sun
Warner Bros. Records [2014]



Fire Note Says: Mastodon ditch their space-time distortion with one of their most straight forward yet.
Album Review: It's a heady question to ask, but how does one innovate in the metal genre today? Do you drop tuning deeper, play slower, or maybe even faster? While I wouldn't necessarily call them innovators, Atlanta, Georgia's Mastodon have released some of the most kick-ass albums in metal to date. The undersea brutality of Leviathan, the debut low end ferocity of Remission, the heavy psych prog perfections that comprise Blood Mountain and Crack the Skye, and finally their last effort 2011′s The Hunter. Their new album, Once More 'Round The Sun seems determined to keep the streak alive, but can it live up to such a strong past?
While The Hunter had loose conceptual/inspirational ties to the band members' experiences and traumatic events, and Blood Mountain and Crack the Skye also had a story driven progressive edge that made them more engaging, Once More 'Round The Sun bucks that trend and essentially picks up where The Hunter left off. While the band members reach for the massive and insane, lots of epic greatness, lots of huge riffs, and new directions, there are also real weird, real math-y, real straightforward undertones—but they might have gone too straightforward. Even though they attempt to put their best foot forward with the deep, chugging brutality of "High Road" and "Chimes At Midnight," Mastodon seems to have lost a bit of that greatness that kept them flying high before. "Ember City" does burn with ferocity and "Halloween" does growl and howl during the breakdown; I just worry that Mastodon has become to good-humored for their own good. I don't expect them to be deadly serious, but the elements of indie brutality, space age psychedelics, and the sense of purpose of their previous releases have dwindled.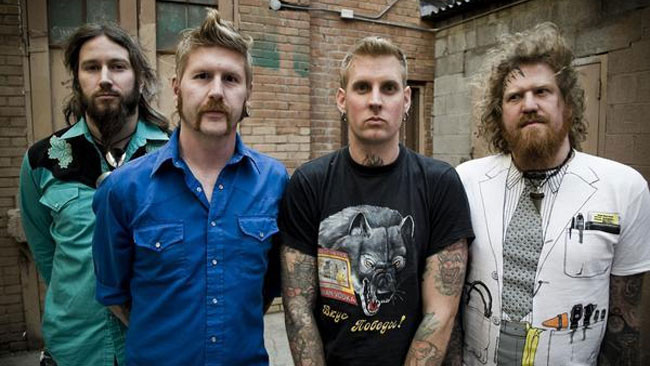 Now I never wanted to ask this question, but has Mastodon become a parody of themselves? For The Swords' last album Apocryphon I accused them of becoming too comfortable. With Once More 'Round The Sun I feel the same might have happened. While there still might be some "blood and thunder" to be found, the excitement of surprise and exploration felt thin with what seemed to be a combination of verse, chorus, solo, breakdown or a similar combination. Not a lot here feels organic; it feels placed out of necessity, which in turn leads to a simple head banger. But fear not, there's always Pallbearer's Foundations of Burden to look forward to.
Key Tracks: "High Road" / "Chimes At Midnight" / "Diamond in the Witch House"
Artists With Similar Fire: ASG / Baroness / Pantera


Mastodon Website
Mastodon Facebook
Warner Bros. Records
-Reviewed by Christopher Tahy

Latest posts by Christopher Tahy
(see all)