Lemuria


The Distance Is So Big
Bridge Nine Records [2013]



Fire Note Says: Lemuria are back with another engaging high energy indie rock record!
Album Review: After 5 years I have started to sound like a broken record when reviewing Buffalo, NY group Lemuria but I will tell you that once again, with album number three, the band hits a 90's alternative sweet spot for me. Guitarist/vocalist Sheena Ozzella's dynamic and melodic voice once again soars with the assistance of Alex Kerns balancing male support that continues to give Lemuria solid footing.
After a quick 47 second intro track you get the angular sounding "Brilliant Dancer" which has this nice slow guitar strum kicking things off before Ozzella's voice chimes in for a line then the entire song launches with big drums, big guitar and harmonizing supporting vocals. It is this type of indie rock flare that grabs your ear instantly as Lemuria is extremely musically tight. The emo rock track, "Oahu, Hawaii", is another example of the band's growing maturity as it comes close to a five minute running time and allows both Kerns and Ozzella to have their vocal space without tripping up each other. The song starts with a more somber tone before the upbeat chorus totally sucks you in. This style of song is a product of their experience playing with each other and could not be found on their 2008 debut Get Better or the sophomore follow up Pebble (2011). This quick interplay can also be heard on the very next track, "Chihuly", which highlights Lemuria's skill and comfortable zone they have with each other. I could listen to tracks like these all day as they bring back fond memories of Throwing Muses, Velocity Girl and Lush.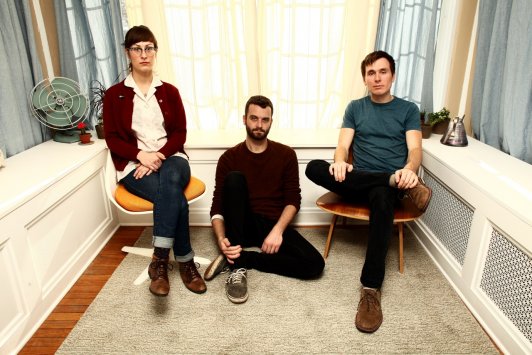 The rest of The Distance Is So Big plays out very similar as they reached back and snagged Pebbles producer J Robbins (Against Me!, Jawbreaker, The Promise Ring) again. His stamp of post-punk can be found throughout the album with pacing that moves quickly up and down, then the vocals separate within tracks before it all joins together again. I do feel that in some places the band's more veteran status gets in the way some as this record loses some of the vigor that made the first two albums so engaging. With that said, The Distance Is So Big is still a really strong indie rock record that will remind you of everything good about 90's groups like That Dog, Superchunk and Belly. It is an album that if you are new to Lemuria you will not only be quickly hooked but will speedily move your way backwards through their catalog to find out what you have missing all of these years!
Key Tracks: "Brilliant Dancer", "Oahu, Hawaii", "Chihuly"
Artists With Similar Fire: Belly / Superchunk / That Dog.
Lemuria Website
Lemuria Facebook
Bridge Nine Records
-Reviewed by Christopher Anthony

Latest posts by Christopher Anthony
(see all)