Kopecky


Drug For The Modern Age
ATO Records [2015]



Fire Note Says: Kopecky streamlines both their name and their style.
Album Review: I became aware of the Kopecky Family Band's 2012 debut album, Kids Raising Kids, last year and was immediately enchanted. The Nashville band's mix of pop with Americana twists was fresh and lively, crackling with energy. The six-piece now goes by the shortened name Kopecky and they have recently released their second full-length, Drug For The Modern Age. This album forsakes some of the elements that made their debut stand out, relying more on the standard guitar/drums/synthesizer setup that many pop bands make use of today. The band's energy is more muted but the strength of the songwriting makes for a still-enjoyable listening experience.
Kopecky employs two vocalists: Kelsey Kopecky and Gabe Simon. I'm a sucker for the interplay between male and female voices; the songs that let each do their thing really stand out on Drug For The Modern Age. "My Love" is an early example of this; it's a straightforward pop song about two people on the verge of connecting with one another. The sense of urgency of making that move before the night ends comes out in the two vocal performances. "Vancouver" is a New Wave style pop song with an edge to it. It's a different kind of song than anything on previous releases and shows the band's chops at constructing a catchy tune.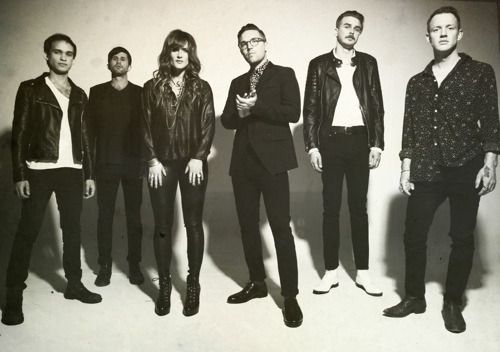 The title track, "Drug For The Modern Age," wraps up the album. It is the track that strays most from the formula for the rest of the album. The strings and horns that grounded their previous work make an understated, but welcome, return. The chorus comes straight from the Carl Newman playbook. This is Kopecky at their best: working as a team in which everyone gets to shine. Some of the songs on this album wallop you on the head with their hooks and riffs; "Drug For The Modern Age" takes time to breathe and develop.
It took a few listens to adjust to the distinct style on Drug For The Modern Age. With six members of the band, two lead vocalists, and an array of instruments at their disposal, Kopecky at their best can do a lot of things really well. This album feels more narrow in focus, which is natural for a second full-length. Do the same thing over and you risk boring your fans; change it up and you're unrecognizable. They've found a way to balance those two demands. Furthermore, Kopecky has a reputation for putting on a hell of a live show and Drug For The Modern Age will ensure they keep that rep alive!
Key Tracks: "My Love" / "Vancouver" / "Drug For The Modern Age"
Artists With Similar Fire: Pains of Being Pure at Heart / Houndmouth / The New Pornographers

Kopecky Website
Kopecky Facebook
ATO Records
-Reviewed by Matthew Heiner

Latest posts by Matthew Heiner
(see all)