King Tuff


Black Moon Spell
Sub Pop Records [2014]


Fire Note Says: Kyle Thomas returns to cast his Black Moon Spell.
Album Review: In my opinion, it could be argued that King Tuff's Was Dead was one of Burger Records' most important reissues. Not to demean his self-titled Sub Pop debut follow up but I just feel Thomas' affection for the small things speaks to me in a heavier manner. It's one of the coolest vinyl pressings that I have, and I make sure Was Dead graces my turntable once a month. But, the real reason we're here is because Kyle Thomas dons the King Tuff moniker once more for this third full length LP, Black Moon Spell. Always riding high, King Tuff keeps his odd-ball attitude, mixing it with 14 tracks the best way he knows how with a care-free spirit, lo-fi musings, and plenty of high energy. It's too bad that this formula might be showing some flaws when it comes to Black Moon Spell.
Was Dead had the simplistic bliss of "Sun Medallion" and the classic feel of "Freak When I'm Dead." King Tuff had its bigger rock sound of "Bad Thing" as well as sweet southern rockabilly of "Stranger" last time out. Black Moon Spell fumbles with its own identity and styles failing to make good on the promises left by the previous records. Not that Black Moon Spell is a failure, it's a lot of fun when not held under the microscope. Right out the gate Black Moon Spell gives up "Black Moon Spell." An unmistakable Witch reference, "Black Moon Spell" takes a fuzzy garage riff throwing in Wolfmother's self-titled for good measure. "Rainbow's Run" propels big rock throws with its fun nods to psych rock. "Headbanger" feels familiar with its ringing power chords, but regains its fun with the chorus "Bang your little head."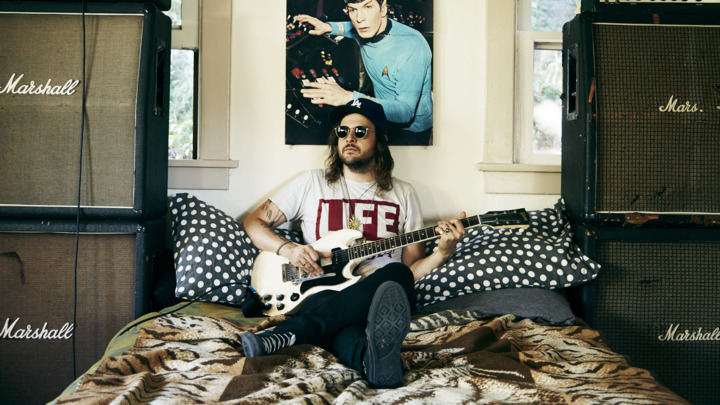 What also helps Black Moon Spell's make or break quality are the two songs self-produced by Thomas himself. "I Love You Ugly" carries some of the funniest lyrics I've heard in some time. "You look like shit and I'm telling you the truth / And that's exactly why I want to say that I love you," – I laugh every time. The other side of that sword is the tangled, lo-fi mess "Radiation," you be the judge, but it just is a weird fit, especially when followed up by "Eyes of the Muse." Incorporating Thomas' eye for the odd and magical, "Eyes of the Muse" works by combining Edgar Winters' "Free Ride" with some later period Led Zep.
I could have just as easily given Black Moon Spell 3 out of 5. But there is still charm under this spell. King Tuff's affinity for the odd and weird might be wearing thin, and the songs don't have the immediate grab of Was Dead or King Tuff, but with more listens Black Moon Spell could easily show some more appeal. It just requires a stronger gaze into his crystal ball.
Key Tracks: "Black Moon Spell" / "Rainbow's Run" / "Eyes of the Muse"
Artists With Similar Fire: James Younger / Nobunny / Hunx and his Punx
King Tuff Website
King Tuff Facebook
Sub Pop Records
-Reviewed by Christopher Tahy

Latest posts by Christopher Tahy
(see all)